Jobless Manjit pipped pre-race favourite and national record holder Jinson Johson to take the gold in 1:46.15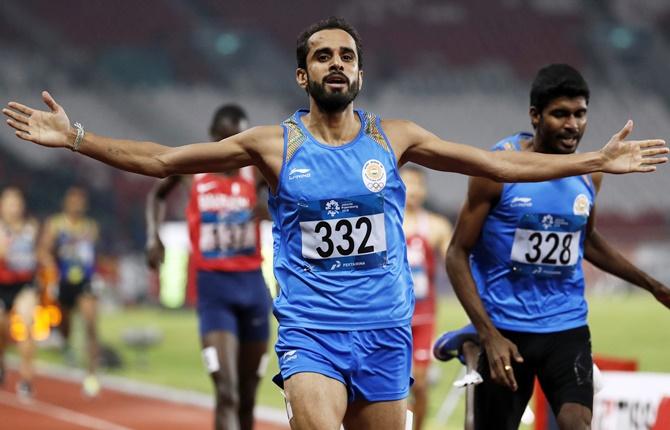 Little-known Manjit Singh stole the limelight by leading a rare one-two for India in the men's 800m before the country was awarded a silver in the 400m mixed relay which made its debut at the Asian Games, in Jakarta, on Tuesday.
Manjit was not a much-talked about medal prospect in the build up to the Asian Games but he brought home the third gold for India after shot putter Tejinderpal Singh Toor and javelin thrower Neeraj Chopra's heroics.
The jobless Manjit pipped pre-race favourite and national record holder Jinson Johson to take the gold in 1:46.15. Jinson, who beat Manjit while shattering legendary Sriram Singh's 42-year-old national record in the National Inter-State Championships in June, clocked 1:46.35.
It was India's only second one-two at the Asian Games as Ranjit Singh and Kulwant Singh had won a gold and a silver at the inaugural edition in New Delhi in 1951.
Manjit's gold was also the first after Charles Borromeo's feat in the 1982 Asian Games.
Coached by Indian Army's Amreesh Kumar, the jobless Manjit bettered his personal best mark of 1:46.24 set in Guwahati during the National Inter-State Championships.
"I was very hopeful. I had prepared accordingly. I never thought of bettering the national mark. I just wanted to give my best. I had strategised to follow runners initially and then push towards the last 100-150m. I did it and won gold for my country," an elated Manjit said.
In the debut event of 400m mixed relay, M R Poovamma frittered away a good 30m lead, handed to her by Mohd. Anas, as India finished second behind Bahrain.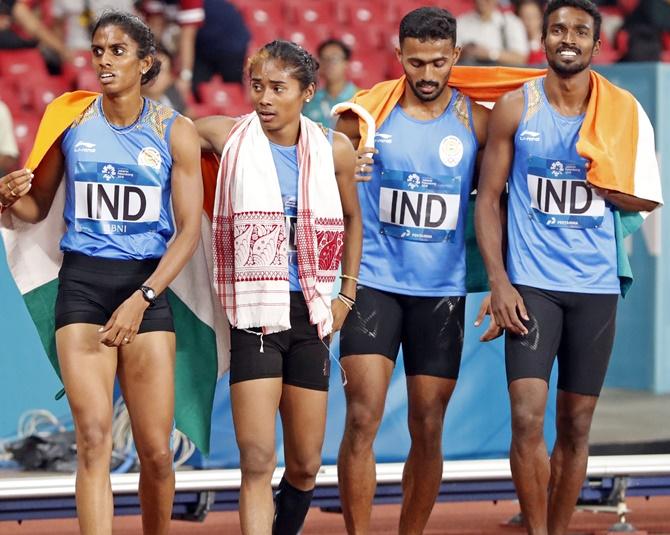 The Indian quartet of Mohd. Anas, Poovamma, Hima Das and Arokia Rajiv clocked 3 minute and 15.71 seconds to finish behind Bahrain (3:11.89).
The Athletics Federation of India later lodged a protest against Bahrain for causing obstruction to Hima during the relay race.
The protest has been admitted by the jury of appeals which will give a ruling at 10am (local time) on Wednesday.
Anas began in spectacular fashion as he opened up a huge 30m lead over his Bahraini rival and handed over the baton to Povamma. However, the Karnataka athlete squandered the lead. By the time she passed on to the baton to Hima, Bahrain had created a huge lead.
As Hima got the baton, she had to change her lane and sidestep Bahrain's Oluwakemi Adekoya who fell before her, obstructing her way, after passing on the baton to Salwa Naser.
Hima could not cover the distance as Salwa pulled away quickly, leaving Anas with an unenviable job of covering at least 50m lead.
In the end, India finished second behind Bahrain while Kazakshtan got the third position with a timing of 3:19.42.
Earlier, Dutee Chand set herself up on course for a second Asian Games medal after qualifying for the women's 200m final but Hima suffered a heartbreak as she was disqualified for a false start.
"It's difficult to compete in two events in a single day. It was just one hour between the 200m and mixed relay. I feared if I will not do well in 200m, the team event will also go bad, it played in my mind. I was thinking all this and I don't know how I made that false start," Hima said.
Dutee, who won a silver in women's 100m dash, stormed into the final by winning the semifinal in 23:00 seconds, which was faster than her qualification round.
Dutee was in third position in the beginning but she made it up in the last 50m stretch to edge out Edidiong Odiong (23.01) and Lingwei Kong (23.32).
Hima, the silver medallist in the women's 400m, lined up for the second semifinal heat but had to make a premature exit due to a false start.
In women's heptathlon, Swapna Barman, competing with a bandaged chin due to a toothache which was causing her a lot of pain, was lying at second after four events with 3481 aggregate points while Purnima Hembram was at third with 3424.
There was disappointment in women's javelin throw as Annu Rani, who was included in the in the last minute after being dropped initially, finished sixth with a below par effort of 53.93m.
In women's 5000m race, Suriya Longanathan and Sanjivani Jadhav finished fifth and seventh respectively.
© Copyright 2021 PTI. All rights reserved. Republication or redistribution of PTI content, including by framing or similar means, is expressly prohibited without the prior written consent.