The women's team triumphed in the 4x400 metres relay as India created history by recording their best-ever medals haul at the Asian Games in Guangzhou, on Friday.
The team comprising Manjeet Kaur, Sini Jose, Chidananda Ashwini and Mandeep Kaur triumphed with a timing of 3.29.02 and also managed to successfully retain their gold medal won at the Doha Games in 2006.
Kazakhstan won the silver, while China had to settle for the bronze.
This was Ashwini's second gold of the Asian Games, having won the yellow metal in the 400 metres hurdles on Thursday. The quartet had also triumphed at the Commonwealth Games in Delhi last month.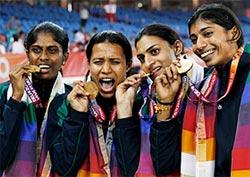 This was India's 13th gold medal at the 2010 Asian Games to go along with 15 silver and 32 bronze for a record haul of 59 medals, their best ever at the Asian Games.
India's best medal haul till date was recorded in the 1982 Games in Delhi when they had won 13 gold, 19 silver and 25 bronze for an overall tally of 57.
Earlier, the men's and women's kabaddi teams expectedly maintained their supremacy by clinching the gold.
Long distance runners Preeja Sreedharan and Kavita Raut had their moment of glory by winning the silver and bronze medals respectively in the women's 5000 m event.
Rollersports fetched India a couple of unexpected bronze medals with Anup Kumar Yama bagging one in men's single free skating before combining with Avani Panchal to finish third in the pairs skating event.