Ashish Kumar creates history in gymnastics
Gymnast Ashish Kumar on Tuesday opened a new chapter for India in the little followed sport by clinching the country's first ever medal, a bronze, in the Asian Games when he stood third in the men's floor exercise routine in Guangzhou.
Kumar, who came to national limelight in last month's Commonwealth Games by winning a vault silver and bronze in floor, tallied 14.92 points to take the bronze in a bitterly fought contest in which China's Zhang Chenglong and Korea's Kim Soo Myun tied for the gold with identical 15.40 points.
"I am very happy because it is the first gymnastics medal in the history of Indian gymnastics (at the Asian Games)," said the Allahabad-based gymnast, whose performance is even more praiseworthy considering that the team's foreign coach Vladimir Chertkov deserted the squad before the commencement of the Games and returned to India.
"It was very tough for me because I did not have much practice for the Asian Games. We have just had the Commonwealth Games in Delhi. And it is very tough with China and Korea (in fray)," said Kumar who began to take part in gymnastics in 1994.
"I started in 1994 when I was four years old. Now I am 19. It's a great experience. I won silver (on vault) and bronze (in floor) at the Commonwealth Games and now I have another bronze at the Asian Games," he said.
Khade wins 50m butterfly bronze
Virdhawal Khade scripted history on Tuesday as he became the first Indian swimmer in 24 years to clinch an Asian Games medal by notching up a bronze in the 50m butterfly event in Gaungzhou.
Khade, who topped his heat by clocking 24.56sec, finished third in the finals with a timing of 24.31sec.
Khazan Singh was the last Indian swimmer to win a medal at the Asian Games when he clinched the 100m freestyle silver in the 1986 Seoul edition.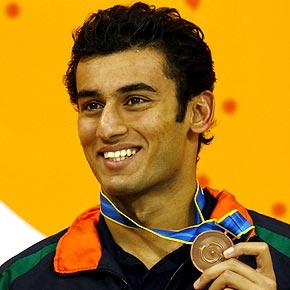 "I am very happy to have won a medal for India after 24 years. I wanted to win after missing the bronze yesterday. It would have been better had it been a silver or a gold," Khade, who finished fourth in the 50m freestyle finals just 0.03 seconds behind the bronze-medallist, said.
"My start was bad but my swimming is better than all these guys. That is how I could catch them, I have to work on my start. It is not easy in 50m to recover after a bad start," he added.
The 19-year-old's timing was, however, not even his personal best which is 24.25sec which he managed at the Commonwealth Youth Games in Pune in 2008.
China's Jiawei Zhou clinched the gold by clocking 23.66sec, while Japan's Masayuki Kishida settled for silver 24.13sec.
Shooters off target for second day running
After cornering glory in the Commonwealth Games and promising start to the competitions in Gaungzhou, the much touted Indian shooters drew a blank at the range for the second day running at the Asian Games on Tuesday with the pistol markswomen way off target.
After bagging two silver and as many bronze medals, the shooters, who provided India with the golden touch in the Delhi Games, put up a major flop show and left everyone wondering what has gone wrong with them.
The women's trio of Rahi Sarnobat, Annu Raj Singh and Anisa Sayyed flopped badly in the 25-metre pistol event as the trio failed to qualify for the finals in the individual category and finished a disappointing seventh in the team competition at the Aoti Shooting Range.
Rahi was the best of the lot, finishing the qualifiers in the 10th position with 577 points (286 in the precision round and 292 in rapid). She shot rounds of 96, 94 and 96 in precision and followed it up with a better display in the rapid fire (96, 96, 99).
Annu was no better as she shot 288 and 286 in the two rounds for an overall tally of 574 that fetched her the 18th spot -- 97, 95, 96 in precision and 95, 96, 95 in rapid, while Commonwealth Games gold medallist Anisa finished a disappointing 26th with a tally of 566 points (282 and 284), well below her effort in Delhi last month.
Anisa shot 97, 92 and 93 and 95, 93, 96 in the two segments.
The Indian trio were no better in the team event as they finished seventh with an overall aggregate of 1717, six below bronze medal winning South Korea.
Kazakhstan won the gold with 1731, while Mongolia (1725) and South Korea (1723) bagged silver and bronze respectively.
Bomiljit wins bronze, Sandhyarani assures India of silver
Indian wushu players had a good day in office at the Asian Games with Bimoljit Singh Mayanglambam winning the bronze and Sandhyarani Devi Wangkhem assuring India of at least a silver in the men's and women's Sanshou 60kg events respectively in Guangzhou on Tuesday.
Bimoljit lost his semi-final bout to Mohsen Mohammadseifi of Iran 0-2 but still bagged a bronze for the country at the Nansha Gymnasium here.
The 27-year-old Indian had knocked out Valasith Bouapha of Laos in the quarter-finals to reach the semi-final.
Sandhyarani Devi Wangkhem, meanwhile, beat Paloy Barckkham of Lao 2-0 in the semifinals of the women's sanshou 60 kg event to assure India for a silver. She will next face Azadpour Khadijeh of Iran in the summit clash.
The Indian had beaten Moria Manalu 2-0 in the quarter-finals.
Sasikiran fails to bag India a medal
Grandmaster Krishnan Sasikaran, who finished joint second, was expected to bag a medal for India in the men's chess individual section but he lost both his matches of the last two rounds to slip to ninth position with 5.5 points.
Kasimdzhanov Rustam of Uzbekistan won gold, while Vietnam's Le Quang Liem claimed silver and China's Bu Xiangzhi took bronze.
Till Monday, Sasikiran remained the lone unbeaten participant from India, with four wins and three draws to sit at joint second on 5.5 points along with top seed Le Quang Liem.
He ended the day only half a point behind sole leader Rustom Kasimdzhanov with whom he drew his fifth round clash.
But Tuesday, the tables completely turned as he first went down to Quang Liem and then to Xiangzhi to remain on 5.5 points to go out of medal contention and finished at a lowly ninth.
The other Indian Surya Sekhar Ganguly grabbed the fifth spot with six points, winning six matches and losing three.
Surya Sekhar won his eighth round match in the morning beating So Wesley of the Philippines, but then lost to Kazakhstan's Kazhgaleyev Murtas.
India's soft tennis challenge ends
The Indian challenge in soft tennis came to an end after both the mixed doubles pairs failed to cross the first hurdle, losing to higher-ranked opponents.
The mixed doubles pair of Jitender Mehlda and Monica Murali Menon became a first round casualty after losing the opening round 5-0 to Mai Sasaki and Hidenori Shinohara of Japan.
The Asian giants took just 16 minutes to brush aside the Indian pair 5-3, 4-0, 5-3, 4-1, 4-1.
Another Indian combo of Mohammed Nasir and Srivastav Taruka also lost their first round battle, suffering a 5-1 defeat to Chinese combo of Yang Jiao and Sisi Qui.
Up against the Chinese, the Indian pair tried to put up a fight but Yang and Sisi were too strong as they wrapped up a 6-4, 4-2, 4-0, 2-4, 5-3, 4-1 win over Nasir and Taruka in a 25-minute match.
China crush India 38-2 in women's waterpolo
The Indian eves' disastrous performance in waterpolo continued as hosts China thrashed the minnows 38-2 during a group league game.
On Monday, India lost to Kazakhstan by identical margin. Nothing seemed to have changed from their humiliating defeat as China scored 10, 12, 8 and 8 goals in the four quarters. The Indian women managed to find the net once in each of the second and third quarter.
Suranjoy off to a winning start
Suranjoy Singh gave a resounding start to India's campaign in the Asian Games boxing event by entering the fly weight (52kg) pre-quarterfinals with a thumping win over Thailand's Chatchai Butdee.
The 24-year-old Manipuri, who has won an astonishing seven international gold medals since April 2009, thrashed Butdee 7-2 in his and India's opening bout at the Foshan Gymnasium.
Fresh from his seventh international gold at last month's Commonwealth Games in Delhi, Suranjoy was as usual sharp in his movement and dodged his rival's attempted attacks craftily.
In the opening three minutes, Suranjoy took a measure of his rival and in between notched up a point through a left hook to take the edge.
In the second round too, the Indian was not too aggressive and waited for Butdee to make the first move before striking hard on counter-attack to pocket two more points.
Butdee, a South East Asian Games gold-medallist, went for all out attack in the final three minutes but Suranjoy took full advantage of the Thai's dodgy defence to score through uppercuts and body punches.
India suffer 0-5 drubbing at hands of Japan
India suffered a 0-5 drubbing at the hands of title contenders Japan to crash out of the football competition after qualifying for the knockout phase after a long wait of 28 years.
India, who made it to the round of 16 after defeating Singapore 4-1 in their last group match, were no match to their formidable opponents who have won all their earlier matches and have not conceded any goal so far in the tournament.
Japan completely dominated the match with overwhelmingly  better ball possession, superiority in skill and speed and scored through highly-rated young striker Kensuke Nagai (17th and 51st), Ryuohei Yamazaki (27th), Yamamura Kazuya (45th) and Mizinuma Kota (63rd).
Japan, who led 3-0 at half time, had as many as 19 shots at the opposition goal of which 13 were on target.
India had just three shots at the Japanese goal in the entire match of which only one was on target.
Indians lose in sepaktakraw opener
India made a disappointing start in the sepaktakraw event of the Asian Games with both the men's and women's team losing their opening group matches.
While the men's team went down fighting 1-2 against Japan in Group B, the Indian eves cut a sorry figure in their pool match as they were routed 0-3 by Korea.
Both the men's as well as women's team will be up against hosts China in their next group match on Wednesday.
India judokas flop
The Indian judo campaign at the Asian Games came to a disappointing end after Olympian Tombi Devi and Navjot Chana lost their repechage bouts to miss out on medals.
Competing in the men's 60kg category, Chana beat Hong Kong's Kin Ting Yu 120-0 and Iran's Mohsen Ghaffar 110-0 in his preliminary bouts but lost 0-120 in the quarter-finals to eventual finalist Rishod Sobirov of Uzbekistan.
However, Chana could not capitalise on the opportunity he got in the repechage and was beaten 2-101 by China's Lamusi A.
Similar was the story of Tombi (48kg), who won her preliminary bout against Nancy Quillotes of Philippines 100-0 before losing to eventual finalist Yeon Jung Chung of Korea 0-110.
Tombi lost to Alexandra Podryadova 0-1 in the repechage.
Indians disappoint in soft tennis
Indians came a cropper in the soft tennis individual competition of the Asian Games, crashing out in the group stage itself.
Navneet Kumar was the lone Indian to register a group stage win when he beat Ananda Khamphoumy of Laos 4-1 before crashing to defeats in his remaining two group C matches at the Tianhe Tennis School.
Navneet lost 1-4 to Nepal's Manoj Subba in his second match and then went down 0-4 to Korea's Yohan Lee.
The other Indians were even worse, as they failed to register even a single win.
Jitender Mehlda, who first stumbled to a 0-4 loss to China's Bo Shi, was then beaten 1-4 by Chinese Taipei's Chia Wei Kuo, before crashing to a 0-4 defeat at the hands of Rahmatullojon Rajabaliev of Tajikistan.
Taruk Srivastav could have notched up at least one win but she also let the advantage slip to lose 3-4 to Tsetsenbayar Dash of Mongolia. The heartbreaking loss was followed by 0-4 drubbings at the hands of Japan's Ayaka Oba and Tong Gao of China in her remaining group C singles encounters.
Samia Rizvi, placed in group B, was handed a 0-4 thrashing by Yong Sim Jo of North Korea before a 2-4 defeat at the hands of Korea's Aekyung Kim.
She gave a walkover to Shabnam Yusupzhanova of Tajikistan in her final group match.
Aditi braves injury to advance
Aditi Mutatkar braved a calf injury en route to a straight-game triumph over Sri Lanka's Thilini Jayasinghe as Indian shuttlers began their individual campaigns at the Asian Games on a bitter-sweet note.
Aditi won 21-11, 21-19 in just 19 minutes after gaining a comfortable 10-point leads in both games.
Aditi hit four smash winners, the same as her rival, and the two were also more or less matched well in net play. But the Indian woman had a clear edge otherwise.
Aditi will meet fourth seed Erika Hirose of Japan, quarter-finalist in the World Championship this year, in the pre-quarterfinals. The Japanese got a first round bye.
In the women's doubles, Jwala Gutta and Ashwini Ponnappa, fresh from their Commonwealth Games women's doubles gold, sailed through against the Thai pair of Savitree Amitrapai and Punyada Munkitchokecharoen.
The Indians were leading 21-13 when their rivals conceded the match after one of them got hurt.
But the second doubles pair of Aparna Balan and Prajakta Sawant exited after losing tamely to Malaysia's N G Marylen Poaulen and Woon Khe Wei 21-17, 21-7 in a 20-minute drubbing.
Japan crush India in women's hockey
Indian eves squandered a few late chances to go down 0-3 against reigning silver medallist Japan in their second pool encounter in the Asian Games hockey competition.
Japan, who lost to India 0-2 in the World Cup in Argentina in September, not only exacted sweet revenge for that loss but also inflicted on their rivals their fifth defeat in the Asian Games, and 21st overall in all competitions.
Former champions India lost key defender Vineeta Toppo in the very first minute of the match when she twisted her knee and could not match the pace of their rivals for the better part of the game before trying to stage a late comeback.
But poor shooting, especially by captain Surinder Kaur in the space of three minutes late in the match, did not help their cause.
For Japan, who finished second in 1986, 1994 and 2006 edition of the Games, Miyuki Nakagawa (10th minute), Chiba Kaori (31st) and Arai Mazuki (70th) scored from three field strikes.
It was India's first defeat in the Games after their facile 4-0 victory over Malaysia in their lung-opener on November 13 while for Japan it was their third win on the trot after 4-1 and 4-2 verdicts over Kazakhstan and Malaysia.
Another dull day for Indian paddlers
India endured another disappointing day in table tennis competitions at the Asian Games with only the men's doubles pair of Achanta Sharath Kamal and Subhajit Saha progressing to the pre-quarterfinals.
The Commonwealth Games gold medallist pair of Sharath Kamal and Saha lived up to their billing and took little time in outclassing Husain Albahrani and Mansour Alenezy of Kuwait 3-0 in their opening round encounter.
The Indian duo took just 12 minutes to get the better of Albahrani and Alenezy 11-7, 11-4, 11-4 and set up a clash against the Korean pair of Jungwoo Lee and Sang Eun Oh.
If Sharath Kamal and Saha's match was a cakewalk, their compatriots Soumyadeep Roy and Anthony Amalraj were shown the door in the first round by Korean combination of Yuk Cheung and Li Ching.
Roy and Amalraj offered little resistance as the Korean duo sent them packing 5-11, 5-11, 7-11 in mere 13 minutes.
India's challenge also came to an end in the mixed doubles event as the pair of Sharath Kamal and Kumaresan Shamini went down fighting 2-3 to Seiya Kishikawa and Ai Fukuhara of Japan in the pre-quarterfinals.
Sharath and Shamini gave a tough fight to their opponents before bowing down 12-10, 4-11, 11-8, 2-11, 6-11 in their second round encounter.
Indians lose in beach volleyball
The Indian duo of Jameeludd Mohammed and Ravinder Redd Sara started their beach volleyball campaign at the Asian Games on a losing note suffering a 0-2 defeat at the hands of their Japanese opponents in their opening pool match.
The pair of Jameeludd and Ravinder were out-classed 14-21, 10-21 in 35 minutes in their first Pool F match at the Beach Volleyball Venue.
Two Indians in Wushu semis
M Bimoljit Singh and Wangkhem Sandhyarani Devi entered the semi-finals of the men's and women's Sanshou 60kg wushu competition in the Asian Games.
Bimoljit lost the first round but knocked out Valasith Bouapha of Laos in the second round in the men's Sanshou 60kg quarter-final contest while Sandhyarani beat Manalu Moria of Indonesia 2-0 on points in women's Sanshou 60kg last eight stage match.
Bimoljit will play Mohammad Seifi in the semi-finals while Sandhyarani takes on P Barckkham of Laos in the last four stage.
Earlier in the day, Sagolsem Somorjit finished a disappointing last in the men's nanquan/nangun all-round nangun wushu competition.
Somorjit finished 15th in a 15-player field with a total score of 7.65.
Indian cyclists fail to qualify for men's team pursuit event
Indian cyclists failed to enter the main round of the men's team pursuit event after finishing ninth in the qualifying round of the Asian Games.
In a contest where the eight fastest teams qualified for the main round, Indian team of Vinod Malik, Sombir, Satbir Singh and Atul Kumar managed to grab the ninth spot in a 11-side field.
India clocked a poor 52.704 km/hr fastest speed which was way behind the winning team Hong Kong, who clocked 56.954 km/hr.
Kazakhstan who qualified round one of the competition as the eighth team were ahead of India by 1.971 km/hr speed.
Indian women's waterpolo team thrashed by Kazakhstan
India made a disastrous international debut in the Asian Games women's water polo competition when they were humbled 38-2 by Kazakhstan.
A first minute goal by Anna Zhubkova started the goalrush for the former Soviet bloc region as they led 27-1 at the halfway stage of the match following an initial surge that put the Kazakhs, who have played at the Olympic Games, 13-1 ahead after the first quarter.
Superior anticipation and speed in the water helped the winners score goals at will and complete a humiliating victory over an Indian team that was playing its first international match.
The Indian defence was torn apart by their rivals before the Kazaks slowed down to use their bench strength to the fullest in the second half.
The score increased to 35-1 after the third quarter before Indian captain Biji Varghese converted a penalty goal early in the last period of play.
But gaining in experience, the Indian defence improved and kept the Kazakhs scoring down to only three towards the end. For the winners, Zamira Myrzabekova led the scorers' list with five goals.
Indian cagers beat Vietnam 3-0, reach quarters
India spanked Vietnam 3-0 in their final group B preliminary match to advance to the quarter-finals of the men's volleyball event at the Pharmaceutical Stadium.
India staved off the late challenge from Vietnam to notch up a 25-20, 25-16, 25-23 victory to rise to the second spot in Group B, which is headed by defending champions South Korea.
India had started their campaign with a 3-1 win over Kazakhstan, before losing 0-3 to South Korea in their last two encounters in the preliminary stage.
Harika wins bronze in women's individual chess
India's Harika Dronavalli clinched the bronze medal in the women's individual chess at the Asian Games.
Chinese top seed Hou Yifan won the gold, while compatriot Zhao Xue got the silver.
Harika, with five wins, three draws and one loss, scored 6.5 points to grab the third spot.
Grand Master Yifan won eight rounds and drew one to score 8.5 points. And Xue, also a grand master, won seven matches, drew one and lost one to finish with 7.5 points.
Meanwhile, another Indian women's player Tania Sachdev could earn only 5.5 points with five wins, one draw and three losses, to finish on sixth position.
Indians disappoint in carom, pool events
National champion Dharminder Singh Lilly missed out on an expected medal after losing his men's carom 3 cushion singles quarter-final to Japan's Joji Kai.
Veteran Lilly failed to live up to the expectations and lost 8-40 to Joji at the Town Gymnasium. Had he advanced to the semi-final of the event, he would have assured himself of at least a bronze medal as under the rules of the event, both the losing semi-finalists are awarded a bronze each instead of playing a third-place play-off.
"One can't do much. He was our best hope in carom ball event. We were confident of his semifinal appearance," said Team Manager Ravi Tandon.
In the pre-quarterfinals, Lilly had defeated Sulaiman Albarrak of Saudi Arabia 40-16 to move into the quarter-finals.
Indians also suffered heartbreak in the Pool events as Alok Kumar, who won a bronze in the 8-ball pool singles event on Sunday, and Manan Chandra lost their respective preliminary round matches in the men's 9-ball pool singles.
Kumar was blanked by Japan's Hisataka Kamihash 4-9 while Manan lost 3-9 to Phuc Long Nguyen of Vietnam.
Cue sports has so far fetched three medals for India in the ongoing quadrennial mega-event with star cueist Pankaj Advani successfully defending his title in the English Billiards singles category to bring India its first gold in this edition.
The trio of Yasin Merchant, Brijesh Damani and Aditya Mehta secured a silver in the Snooker team event.
Sudhir finishes sixth in 77kg weightlifting
India saw another dull day in weightlifting as Sudhir Chitradurga finished sixth in the men's 77kg event.
Sudhir would have at least finished fourth had he repeated his 297kg effort which fetched him a bronze medal in the Commonwealth Games, but he could only lift 295kg (135+160) to finish sixth.
Sudhir, who was placed in Group B of the men's 77kg event, gained the second spot in his group, after Thailand's Ekkachai Yeeram.
Yeeram bettered the 31-year-old Indian by just one point with a combined lift of 296kg (165+131) to top his group to finish an overall fifth.
In fact, the fouth placed Jasurbek Jumayev of Turkmenistan acquired similar points as Yeeman (who lost out on greater body mass), thus was also only one point ahead of Sudhir.
North Korean Pang Kum Chol claimed a surprise gold with a total lift of 348kg (156+192), while Kazakhstan duo Kirill Pavlov, with a lift of 325kg (147+178) and Dauren Shauyeteyev with 310kg (140+170) lift - claimed silver and bronze respectively.
At end of the snatch event, Sudhir lifted 135kg to top the table, while in clean and jerk category, he lifted a maximum weight of 160kg in his second chance before failing in his third and the final attempt to lift 165kg.