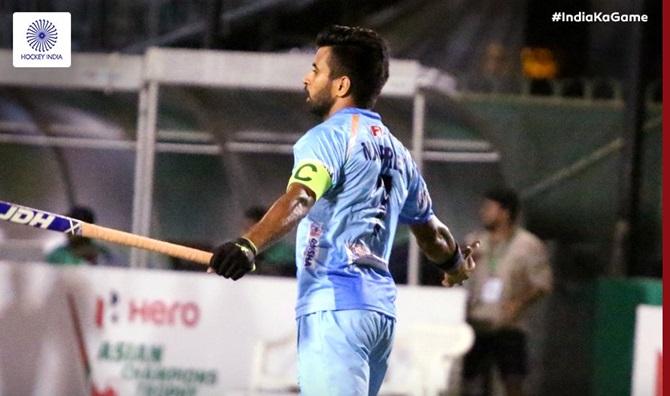 Down by an early goal, India staged a magnificent fightback to beat two-time champions Pakistan 3-1 in their second outing of the Asian Hockey Champions Trophy 2018, at the Sultan Qaboos Sports Complex, in Muscat, on Saturday night.
In their first meeting since the Indians won the bronze medal match 2-1 at the Asian Games in September, Manpreet Singh, Mandeep Singh and Dilpreet Singh scored for India after Irfan Jr. had put Pakistan ahead.
Pakistan got off to a rousing start, with Irfan scoring in the first minute. However, once the Indians settled down it was the Pakistan defence that was under pressure. Repeated attacks saw India restore parity in the 24th minute through captain Manpreet Singh, who worked his way into the circle and slammed home.
Mandeep Singh then gave India the lead in the 33rd minute. He surprised a host of defenders by dispatching the ball between his feet into the Pakistan goal, following a scrimmage inside the circle.
In the third quarter, with good promptings from the midfield the Indians were all over the Pakistan citadel and it was only a matter of time that another goal would come India's way.
Dilpreet Singh made it 3-1 in the 42nd minute, scoring his fourth goal of the tournament. That goal took the stuffing out of the Pakistanis.
Manpreet was adjudged the man of the match.
India, who beat Oman 11-0 on Friday, next plays Japan on October 21, while Pakistan, 3-1 winners over South Korea, play Oman on October 22.
The last time the sub-continent arch-rivals met in the tournament was in 2016, and it was India winning 3-2 to bag the title for the second time.
India and Pakistan have won the trophy twice: Pakistan in 2012 and 2013; India in 2011 and 2016.