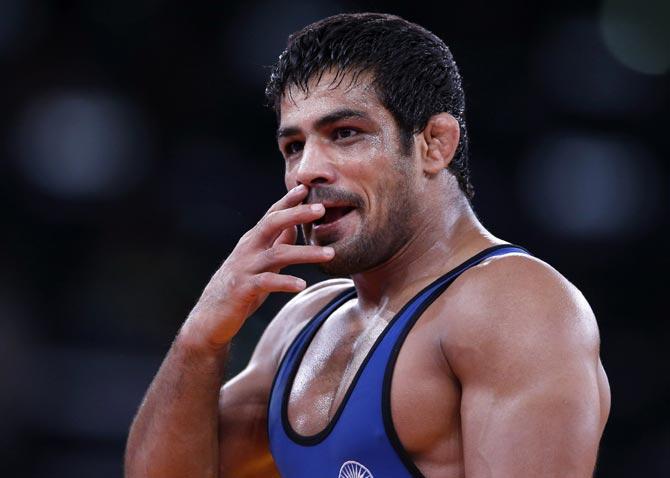 The Sports Ministry on Friday sanctioned Rs 4.95 lakh for star wrestler Sushil Kumar's two-week training programme in Georgia ahead of the Asian Games, besides clearing another Rs 25 lakh for athletes across seven other sports.
The Mission Olympic Cell, at its meeting on Friday, cleared funding proposals related to training, competition, support staff and equipment expenses.
"Rs 4.95 lakh was sanctioned to Sushil Kumar for a two-week training programme in Georgia ahead of the Asian Games along with one support staff and two sparring partners," the Sports Authority of India said in a release.
Shooter Tejaswini Sawant has been sanctioned Rs 1.24 lakh for sports science evaluation across four months of January, February, July and August. The training expenses of Akhil Sheoran for his pre-Asian Games training in Mumbai and Pune were alsosanctioned at the meeting.
"Rs 5.02 lakhs has been sanctioned for gymnast Rakesh Patra for his 12-day training camp in Mersin, Turkey ahead of the Asian Games. Apart from coaching fees, the expenses will also include use of training venue, medical expenses and accommodation," the SAI said.
Boxer Vikas Krishan, who won a gold medals at the Gold Coast Commonwealth Games, has been sanctioned Rs 42,000 for purchase of equipment, including shoes, lactometer and pulse oximeter.
The proposals of six para-athletes, who are training in India and abroad ahead of the Asian Para Games that will take place between October 6 and 13 in Jakarta, were also cleared at the meeting.
Also substantial financial assistance to four Wushu athletes, covered under Target Olympic Podium Scheme (TOPS), were sanctioned for their Asian Games training at the meeting.
"Rs 1.63 lakh has been sanctioned for Avani Lekhara, 10m Air Rifle Para-Shooter for use of a coach, physiotherapist and personal escort during her three-month training for the Asian Para-Games from July 1 to October 5. Rs 5.95 Lakh has been sanctioned for Rampal Chahar, Para High Jumper for his overseas training in Ukraine from July 16 to October 5. This will include the coaching fees and expenses towards food and accommodation.
"In principle, approval was granted to four Indian Para-athletes Rinku Hooda, Amit Kumar Saroha, Dharambir and Ankur Dhama to continue their coaching camps at various SAI centres."
Four Wushu players -- Narender Grewal, Santosh Kumar, Surya Bhanu Pratap and Sanathoi Devi -- were sanctioned Rs 7.73 lakh for their month-long training in Shandong, China ahead of the Asian Games along with their personal coaches Rajvir Singh and Rajesh Tailor.
"In swimming, 'in-principle' approval as per actuals was given to Srihari Nataraj for financial assistance for his coach Jayarajan AC to travel with him to Jakarta for the Asian Games," said the SAI.
"All expenses for training and competition taking place outside India include air fare, visa and medical insurance."
India to fight for all three gold in compound archery
Compound archers will compete in only three disciplines at the upcoming Asian Games and chief coach Jiwanjot Singh said India would be aiming for all three gold medals on offer.
India had grabbed medals in all the four disciplines of the compound section in Incheon Asian Games in 2014 but this time the men's and women's individual events had been replaced by a mixed pair event.
"It's a big loss for us, as two of our medals had come in the individual sections -- Abhisek Verma (silver) and Trisha Deb (bronze)," Singh told PTI from the sidelines of their camp at the Sports Authority of India, Sonepat.
But the good news is the compound archers have peaked at the right time.
The women's compound team has created history by reaching the number one ranking with their double silver medal winning efforts in the Antalya and Berlin World Cup stages.
Indian mixed pair duo of Verma and Jyothi Surekha Vennam on the other hand has won a medal in each of the four World Cup stages in Shanghai, Antalya, Salt Lake and Berlin.
"We will fight for gold in each of the three sections," Singh added, pointing out that they have won medals in all the disciplines of the Asian Championships of 2013, 2015 and 2017.
The preparation is also going on full swing under the guidance of two-time World Cup Final gold medallist Sergio Pagni.
The 39-year-old Italian, who is here for 10 days on the recommendation of Verma, will wrap up his conditioning camp tomorrow.
"He comes with a lot of experience and it's about sharing his knowledge and fine tuning our team ahead of the Games," Singh said.
Pagni's appointment for just 10 days had been criticised, but the Indian chief coach said: "He's not here to make any drastic changes. Our progress is good enough and it's about mental conditioning and fine tuning."
While it's a setback in the compound category, the Olympic discipline recurve archers will be boosted by the addition of mixed pair event in addition to the four regular events.
The Indian recurve archers had returned empty-handed from Incheon Asian Games, and their current form has left a lot to be desired.
Iraq withdrawal prompts partial redraw for Asian Games
The United Arab Emirates will face China, East Timor and Syria at this month's Asian Games after the Asian Football Confederation conducted a partial redraw of the football competition on Friday following Iraq's late withdrawal.
The redraw was the second time the group phase of the competition had to be amended after organisers had not included the UAE and Palestine in the original selection when it was conducted in early July.
Iraq's decision on Thursday not to compete threw up further complications for organisers, leaving only three teams in their group while two other groups -- featuring the late additions from the UAE and Palestine -- contained five nations.
The football tournament at the Asian Games features teams comprising players aged 23 years of age and under, with coaches permitted to select three overage players.
The competition begins on August 10, with the final to be played on September 1.
Group A: Indonesia, Hong Kong, Laos, Chinese Taipei, Palestine
Group B: Thailand, Uzbekistan, Bangladesh, Qatar
Group C: United Arab Emirates, China, East Timor, Syria
Group D: Japan, Vietnam, Pakistan, Nepal
Group E: South Korea, Kyrgyzstan, Malaysia, Bahrain
Group F: North Korea, Saudi Arabia, Iran, Myanmar