Divilj could replace Paes in the mixed doubles
'The only thing I am feeling bad right now is, if he had decided earlier to not come even two weeks or 10 days ago, we would have got a specialist doubles team in place'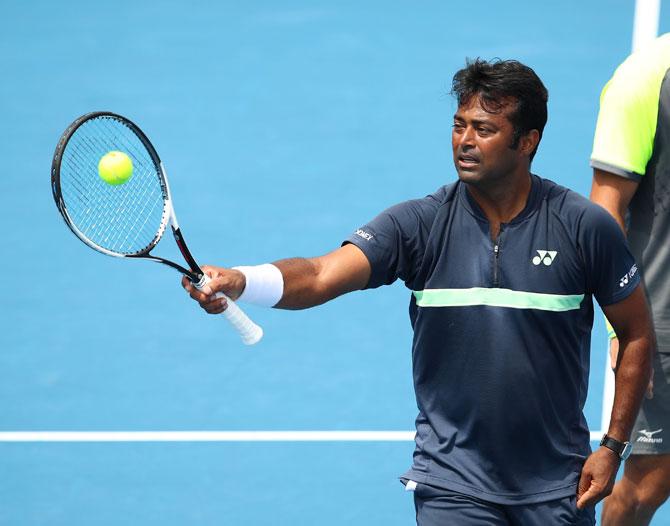 Leander Paes's last-minute pull of the 18th Asian Games has to be respected but it has dealt a telling blow to India's medal prospects in the men's doubles and mixed doubles, said captain and coach Zeeshan Ali.
Ali said he tried his best to convince Paes to change his mind but the 18-time Grand Slam champion eventually decided against coming to Palembang after expressing his disappointment over selectors not picking a doubles specialist to play with him.
"It is obviously very disappointing to not to have Leander. It is a big blow to us. But then again he is a complete professional. It is his decision completely and his patriotism for the country cannot be questioned," Ali told PTI before a practice session in Palembang on Friday.
"Having said that, Paes needed to be here irrespective of whoever he was going to play with as he volunteered to represent the country," Zeeshan said.
The former Davis Cupper said that his focus is now is to rejig the doubles combination after Paes's pull-out.
"But I have to forget that he is not coming and focus on rearranging doubles team, my mixed doubles team. There is no doubt that we will be missing Leander with all his experience in guiding the youngsters on court."
Ali has time till 10 am on Saturday to submit the names of the players but hopes to come to a conclusion after another practice session on Friday evening.
The singles combinations in both categories have been decided with Ramkumar Ramanathan, Prajnesh Gunneswaran, Ankita Raina and Karman Kaur Thandi shouldering India's challenge while Rohan Bopanna and Divij Sharan will be the specialist doubles pairing.
Either of the singles specialist, Ramkumar Ramanathan or Sumit Nagal would have played with Paes, but now that he is not here, it will be a doubles team of primarily singles players with Gunneswaran also in the mix now.
India's sole gold in the last edition at Incheon came in the mixed doubles but in Paes's absence, the planning has gone haywire.
"I think it makes a big a difference to us in the mixed doubles. Who would play with Rohan and Leander could have been decided only once he came. Now it is a different team we would be looking at. The tough bit is that everyone's playing styles are different. Most likely Divij will replace Paes in the mixed doubles.
"So it is going back to the drawing board. We are trying to work the combinations out so, see which style suits which pair. I am definitely going by rankings as far as the combinations are concerned. Since we don't have time, it doesn't give us much room for experimentation," Zeeshan said.
He has three women's players to choose from –- Raina, Thandi and Prarthana Thombare – and see who are the best two suited to play alongside Bopanna and Sharan.
Couldn't Paes have made up his mind earlier?
"It is something you have to ask him. It is a last minute decision that he has taken. I have been on the phone with him constantly. I tried to convince him to come here. My duty is get all the top players here. But you have to respect his decision. You can never doubt his commitment to play for India at any event.
"The only thing I am feeling bad right now is, if he had decided earlier to not come even two weeks or 10 days ago, we would have got a specialist doubles team in place," the Indian coach lamented.
"We have five doubles players in the top-100 (including Bopanna, Sharan, Paes, Jeevan Nedunchezhiyan and Purav Raja). Even N Sriram Balaji and Vishnu Vardhan have been doing extremely well. The only thing I am upset about is that we won't be able to field a second specialist doubles team," he added.
© Copyright 2021 PTI. All rights reserved. Republication or redistribution of PTI content, including by framing or similar means, is expressly prohibited without the prior written consent.