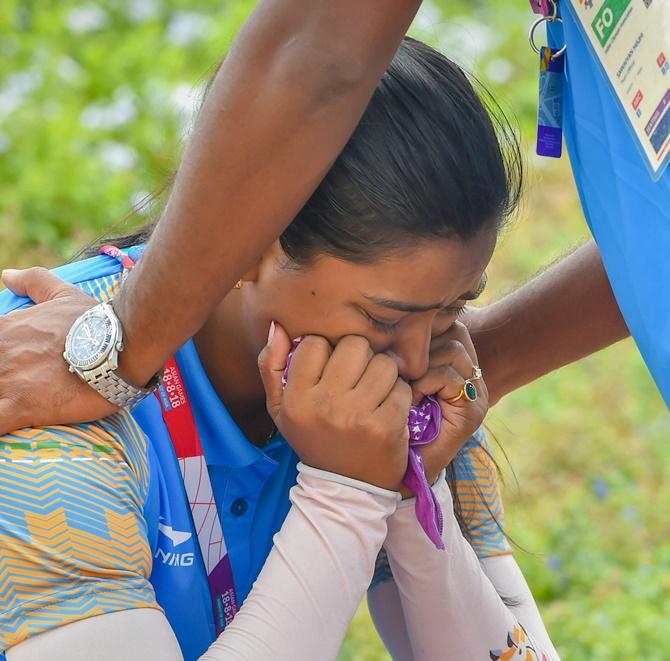 India's struggling recurve archers were in for more shock with Deepika Kumari and Atanu Das suffering an upset defeat at the hands of lower-ranked Mongolia in the Asian Games here via shootout.
The 4-5 loss in the mixed team quarterfinals left the Indian squad shell-shocked as Deepika yet again floundered in pressure situation, finding a seven in the second shot of the shoot-off, which led to their ouster.
Meanwhile, India's compound team of Abhishek Verma and Jyoti Surekaha moved to the quarterfinal with a 155-147 win over Iraq's Fatima Saad Mahmood and Eshaq Ibrahim Mohammed. They will next take on Iran.
Deepika, world number seven, and the 19th ranked Atanu were favourites against the Mongolians.
The team of Bishindee Urantungalag, ranked as low as 254 and Otgobbold Baatarkhuya, ranked 94 in the world, nosed ahead by taking the first set 2-0.
The Indian team clawed its back by taking the next two but the Mongolians forced a shoot-off by snatching the fourth.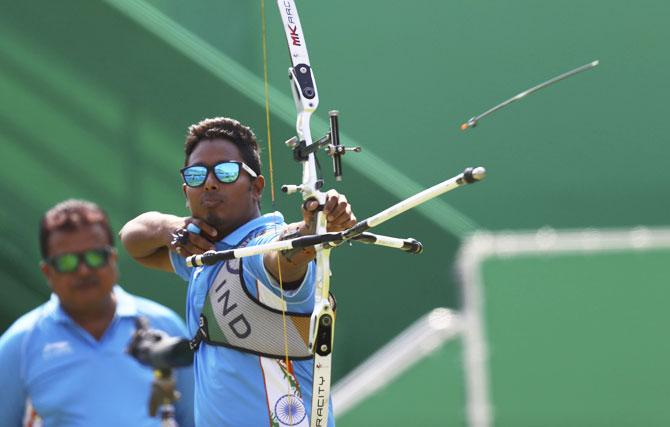 In the deciding shoot-off, both the teams found 10s in the first shot. The Mongolians found nine on the second while Deepika shot a seven.
The defeat left Deepika shattered as he she sat on the pavement outside the stadium, her hands covering her face in dejection.
Atanu tried hard to console his teammate and coach Sawaiyan Manjhi, too, offered words of consolation to Deepika.
"We really don't know what's happening. These archers were hitting world class score in the practice. It's just not translating in the competitions. She is completely distraught. She thinks the team lost because of her," Manjhi, who himself looked distraught, told PTI.
"I also have to take the blame. I could not prepare my archers to be consistent. But it's enough. We just cannot take excuses that 'we could not hit'. We really need to do some soul-searching and find out what's wrong.
"This team just won a World Cup. They are not bad but I really have no idea what strikes them in the multi-sport event," Manjhi said.
The Indian recurve archers had a poor outing in the individual events as well, with only Atanu Das making the quarter-finals. Deepika had crashed out in the pre-quarterfinals.
Both Atanu and Deepika now have team events to redeem some pride.
"We lost and that's it. They hit and we did not. I don't know why and how because we don't know," said Das.
© Copyright 2022 PTI. All rights reserved. Republication or redistribution of PTI content, including by framing or similar means, is expressly prohibited without the prior written consent.