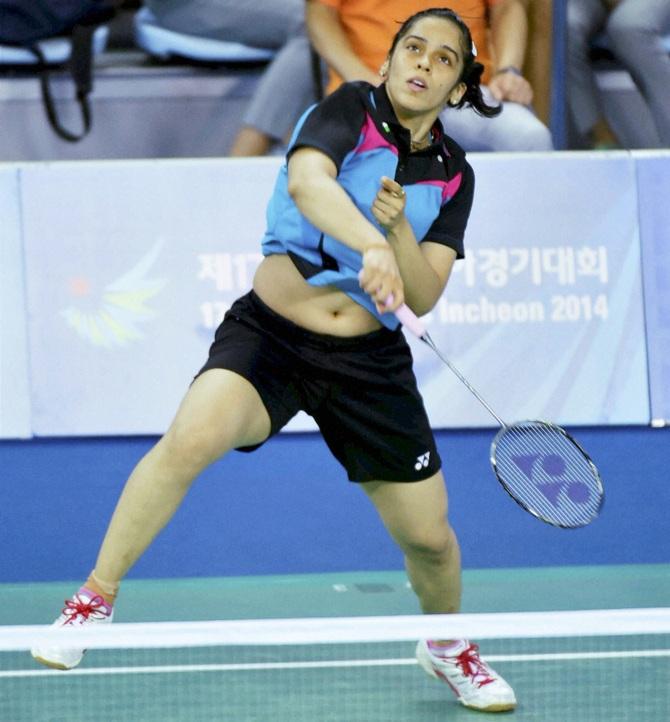 Saina Nehwal in action. Photograph: PTI
In a shock for Indian fans, star shuttlers Saina Nehwal and Parupalli Kashyap fell by the wayside after losing their respective singles matches at the 17th Asian Games on Friday.
Complete coverage: 2014 Asian Games
India at Asian Games: Saina, Sindhu cruise; Dushyant wins bronze
Asian Games: Indian women badminton team claim bronze
Commonwealth Games gold medallist Kashyap failed to pass the Asiad test, losing to world No 1 Lee Chong Wei 21-12, 21-11 in the men's pre-quarter-finals at the Gyeyang Gymnasium, while Saina fizzled out after winning the first game, beaten by China's Yihan Wang 21-18, 9-21, 7-21 in her women's singles quarter-final.
India's K Srikanth also lost in the men's singles pre-quarter-finals after a hard-fought battle against Wanho Son of South Korea.
The sixth-seeded Saina started on an aggressive note, but Yihan used clever angled strokes to make the Hyderabadi girl move around the court and then finished points with deceptive drops as she took a 11-8 lead at the break.
Saina kept herself within touching distance, picking four points on the trot from 11-15, to not only claw back but wrest the lead at 16-15.
The duo then engaged in an energy-sapping rally which Saina won with brilliant net play and carried on the momentum to win a closely-contested opening game.
She, however, could not maintain the aggression, as Yihan surged ahead 8-5.
Both the shuttlers found it hard to judge the shuttle due to the drift in the court. At 5-10, Saina earned another point but hit wide to allow Yihan to go into the interval at 11-5.
A couple of sharp smashes by Yihan swelled her lead and Saina's unforced errors gave the Chinese a 17-8 cushion. Saina completely failed to control the shuttle and soon trailed 8-20. Another rally and an easy point saw Yihan take the second game and roar back into the contest.
The third game looked a mere formality as Yihan dictated terms to pocket the match and end the Indian's misery, even as coach Vimal Kumar looked on with disappointment.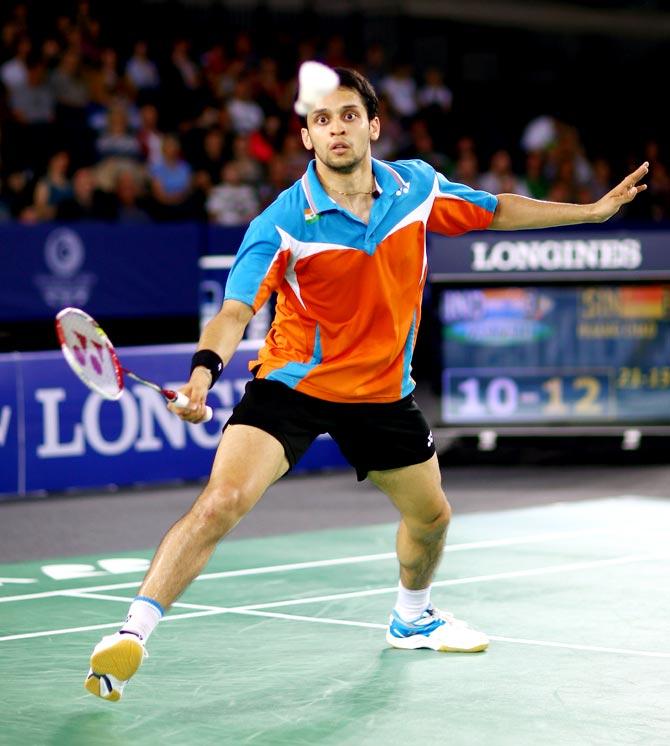 Parupalli Kashyap in action. Photograph: Richard Heathcote/Getty Images
The 28-year-old Kashyap, who had a bye in the opening round, did get the better of Afghanistan's Iqbal Ahmad Shekib in the second round but failed to pass the main test.
It was also heartbreak for India's mixed doubles pair of B Sumeeth Reddy and Manu Attri, who lost a hard fought battle in the quarter-finals to the Singapore pair of Danny Bawa Chrisnanta and Yu Yan Vanessa Neo 21-18, 21-23, 21-15 in just under 50 minutes.