Sudha wins silver in women's 3000m steeplechase, Dharun 2nd in 400m men's hurdles
Varakil wins women's long jump silver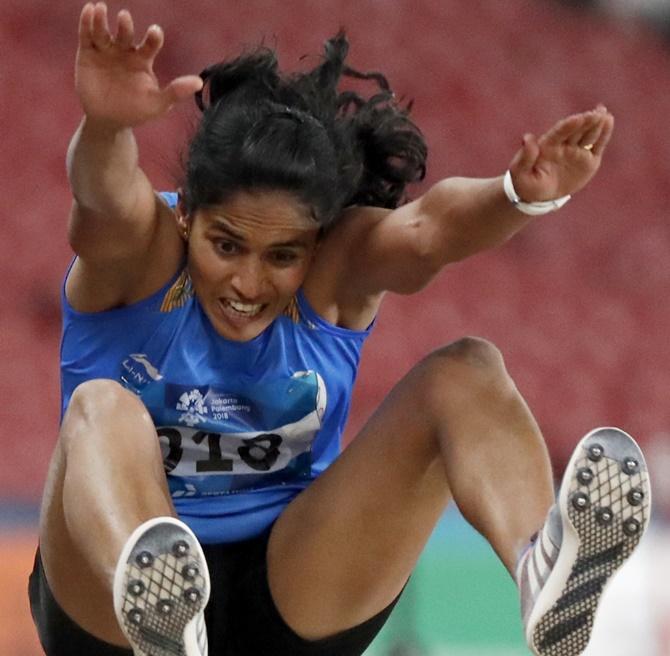 Neeraj Chopra, on Monday, became the first Indian javelin thrower to clinch an Asian Games gold as the country's track and field athletes continued their impressive show by adding three more silver medals, in Jakarta, on Monday.
Neena Varakil, a daily labourer's daughter, won a silver in women's long jump while veteran long distance runner Sudha Singh and Dharun Ayyasamy also finished second in women's 3000m steeplechase and men's 400m hurdles respectively.
After the third day of athletics competition, India has won two gold and six silver from the blue-riband discipline.
Neena, a daughter of a daily labourer in Kerala, won her first Asian Games medal in long jump with a season-best effort of 6.51m. She finished behind Thi Thu Thao Bui of Vitenam who cleared 6.55m.
"She (Bui) has always been a tough competitor. She has beaten me a couple of times before but I am happy with this medal," Neena, who lives in Kozhikode, said.
Ayyasamy also shattered his own national record while winning a silver in men's 400m hurdles. He clocked 48.96 seconds to finish behind Qatar's Abderrahman Samba who won the gold with a Games record time of 47.66.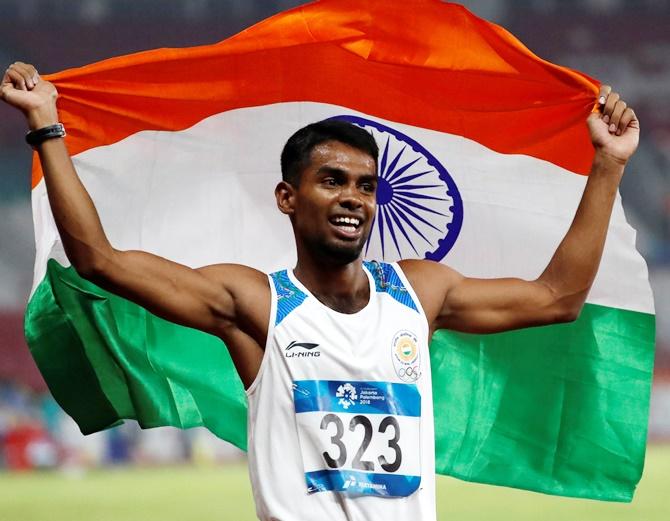 Ayyasamy's earlier national record was 49.45 which he had come up with during the Federation Cup in March.
The 21-year-old from Tamil Nadu was fourth till the 300m mark but passed two competitors in the last 100m stretch to cross the finishing line in 48.96, his personal best mark.
It was India's first medal in the event since Joseph Abraham won a gold in 2010.
Also winning a silver was experienced campaigner Sudha Singh, who won her second Asian Games medal in women's 300m steeplechase by clocking 9 minute and 40.03 seconds.
She had won a gold in this event in the 2010 Asian Games in Guangzhou.
In the men's 800m, Jinson Johnson and Manjit Singh qualified for the final.
National record holder Johnson topped heat number one by clocking 1:47.39 while Singh was second in heat number three with a timing of 1:48.87.
However, there were disappointing performances by other athletes.
Anu Raghavan (56.92) and Jauna Murmu (57.48) finished fourth and sixth respectively in the women's 400m hurdles.
In men's 3000m steeplechase, Shankar Lal Swami finished eighth while Chethan Balasubramanya also had the same position in men's high jump.
Neena Varakil gave India another silver medal from the athletics arena after she came second in the women's long jump event.
Varakil's best jump of 6.51m came in the fourth attempt, which was enough to fetch her the silver.
Thi Thu Thao Bui of Vietnam won the gold with a season's best jump of 6.55, which she managed in her first attempt. The bronze was bagged by Xiaoling Xu of China with an effort of 6.50.
The other Indian in fray, James Nayana was way below the mark with an effort of 6.14. In fact, she could register just two successful attempts out of six.