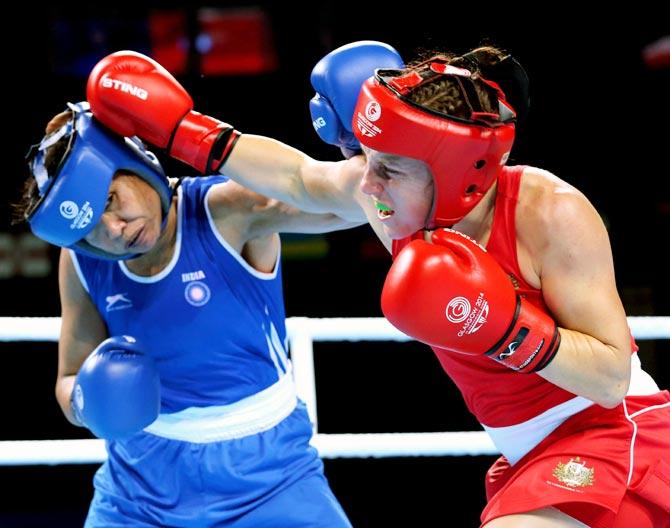 Sarita Devi, left, in action Photograph: Getty Images
India's appeal for a review of L Sarita Devi's semi-final bout at the Asian Games has been dismissed.
After the Indian pugilist lost despite a dominating performance against home favourite Jina Park, they Indian boxing contingent filed a protest, demanding a review of the light-weight (57-60kg) contest.
Robbery in Boxing Ring: 'Judges deserve to be thrown out'
Mary Kom punches her way into final; Sarita settles for bronze
Complete coverage: 2014 Asian Games
The 32-year-old Indian was left in tears after the South Korean was declared winner by a 3-0 margin even though she matched Park blow for blow in the opening round and was markedly more aggressive and precise thereafter.
Sarita, a former Asian champion, was stunned as Park ended up being the judges' choice despite barely managing to stay in the fight.
Such was the Indian boxer's ferocity that Park resorted to holding in order to slow down the pace of the bout after being left with a bloodied nose.
Park was not given a single standing count by Algerian referee Hammadi Yakoub Kheira despite being rocked back by Sarita's blows to her chin.
In the end, all three ringside judges ruled in favour of the Korean by identical 39-37 margins.
The ringside judges were Braham Mohamad of Tunisia, Albino Foti of Italy and Mariusz Josef Gorny of Poland.
Immediately after the bout, a tearful Sarita broke down while talking to journalists.
"All my hard work has come to naught. It has happened to me but kindly see that this kind of injustice is not meted out to anyone else in the competition. I request you," she said tearfully, with folded hands.
"If they wanted to award the bout to her, then why allow us to fight in the first place," she added.
Her husband, former footballer Thoiba Singh, was even more furious and shouted obscenities at the ring officials, saying it was a clear case of cheating.
Meanwhile, Sarita found support from India's long-time Cuban coach B I Fernandes and fellow-boxer M C Mary Kom, who advanced to the final.
"It was pre-decided, the 3-0 verdict is a clear cut indication. The Korean deserved to have been given many standing counts, going by what happened in the ring, and the bout should have been stopped," Fernandes said.
Mary also expressed her disappointment.
"I am shocked and disappointed. Sarita was the clear winner. This should not have happened," she said.
Malaysian wushu gold medallist Tai tests positive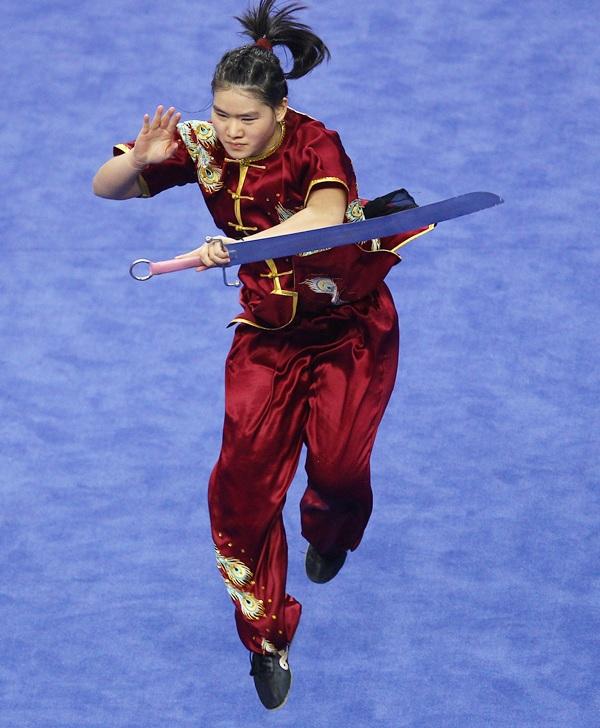 Tai Cheau Xuen in action Photograph: Getty Images
Tai Cheau Xuen, who won a gold medal in wushu for Malaysia at the Asian Games, has been expelled from the event and stripped of her medal because of a failed drugs test.
Complete coverage: 2014 Asian Games
The Olympic Council of Asia announced on Tuesday that Tai had tested positive for the banned stimulant sibutramine.
She was automatically disqualified and stripped of her accreditation.
Tai was the third athlete to fail a doping test at the 17th Asian Games, which end in South Korea on Saturday.