'Mentally and physically, I'm much better than before'
'My first target is to win the World title next year and qualify for the Rio Olympics'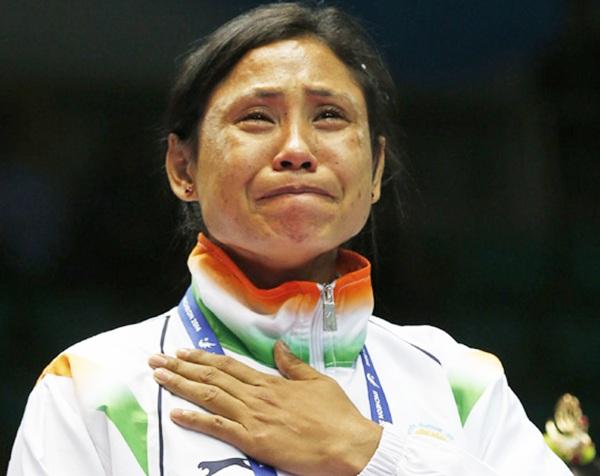 Boxer Sarita Devi cries at the podium after she refused to take the Asian Games bronze medal in 2014. Photograph: PTI Photo
As the one-year ban for the tearful outburst at the Asian Games ends on Thursday, former World champion Laishram Sarita Devi says the forced sabbatical proved a blessing in disguise and helped her become a thinking boxer and calmer person.
Sarita was handed a one-year ban by the International Boxing Association (AIBA) for refusing to accept her bronze medal at the Asian Games after losing her semi-final bout.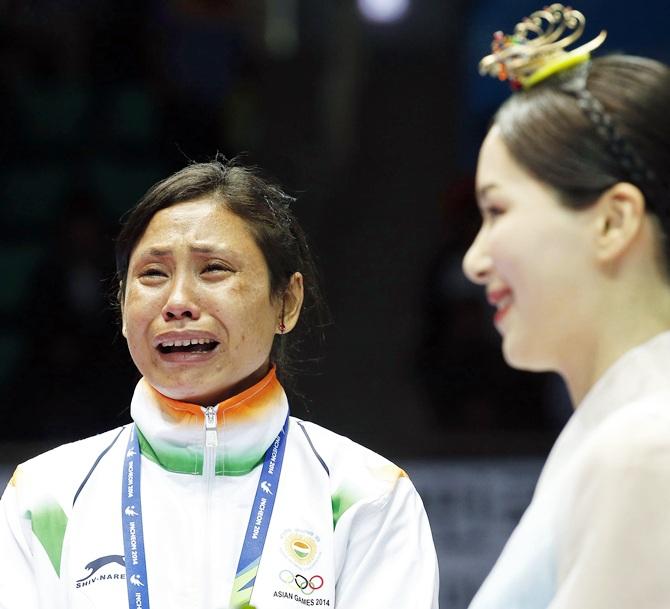 India's bronze medallist Laishram Sarita Devi reacts during the medal ceremony at the 2014 Asian Games in Incheon in October. Photograph: Kim Kyung-Hoon/Reuters
She cried bitterly on the podium and even tried to hand her bronze medal to silver-medallist South Korean Park Ji-Na, to whom she lost in the semis.
The Indian later had to tender an unconditional apology to the Games organising committee and AIBA for her actions.
Nonetheless, she was banned retrospectively from October 1, 2014 to October 1, 2015 and fined 1000 Swiss francs.
"I think I have become a much better boxer now. I have been boxing for the last 15 years and I think there is still lot of space for improvement. You never stop learning. Now, after this one year, I would say I'm much more cool, a thinking boxer.
"Overall, both mentally and physically, I'm much better than before," Sarita, currently training in Aurangabad under former Asian Games gold-medallist Dingko Singh, said.
"Now I'm training much harder than before. I have many expectations to fulfill. Right now I'm training under the watchful eyes of former Olympian and Asian Games gold medallist Dingko Singh. My first target is to win the World title next year and qualify for the Rio Olympics and there again win a bright gold medal for the country."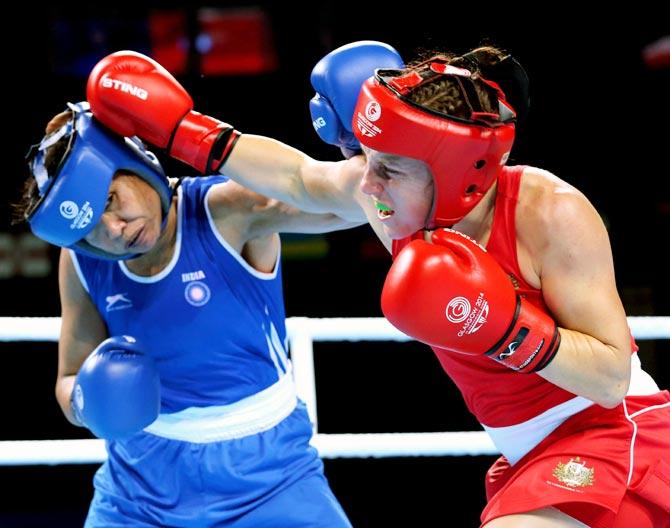 Sarita Devi, left, of India in action. Photograph: Alex Livesey/Getty Images
The 30-year-old lightweight (60kg) boxer is eyeing next year's World Championships as her comeback competitive event.
"World Championship next year would be my comeback event, which is also going to be the qualifying event for the Rio Olympics. I'm going to Liverpool for training for a few weeks before the World Championship," said the Manipuri.
Talking about how she spent the last year, Sarita said she had surgery for a nagging wrist injury besides honing her skills rigorously during the ban period.
"It was a very quiet year for me on the playing front. I took rest and had an opportunity to get my right wrist surgery done. I had sustained this injury before the Glasgow Commonwealth Games and carried it to the Incheon Asian Games. Overall, it seems like yesterday... time goes flying."
During this time, Sarita said her morale remained intact because of the support she got from various quarters, including cricket icon Sachin Tendulkar, who hosted her at his place in Mumbai.
"I got enough support from everywhere. Not only my family but the Sports Ministry, the ad-hoc committee boxing administration in India now (formerly Boxing India); my sponsors, Olympic Gold Quest; Sachin Tendulkar sir; my fellow sportspersons and, last but not the least, my fellow Indians.
"I am grateful to all of them for giving me the strength to withstand the tough time," she said.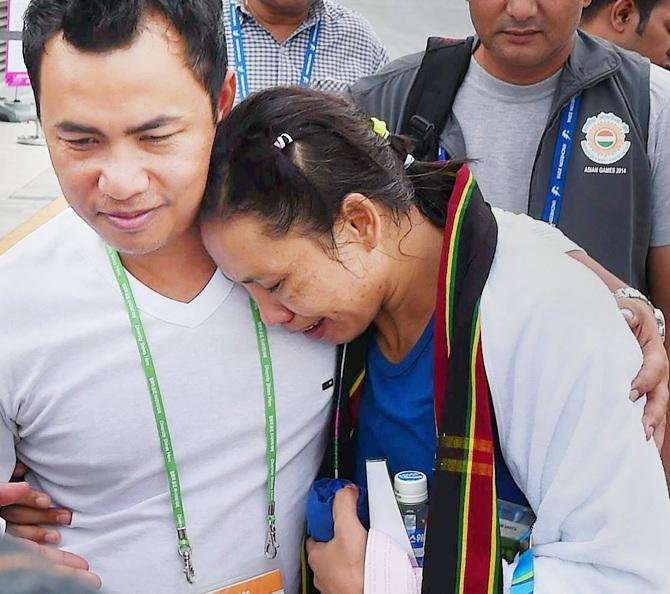 Sarita Devi, right, of India is consoled by her husband. Photograph: PTI
Sarita said besides the external support, she also relied on her inner self-belief to keep herself motivated.
"I wouldn't have been here without my family. They are my rock solid support and without them it's almost impossible to sustain the motivation level to come back. Apart from that, the dream of making my country's flag flying high like before, keeps me highly motivated."
Claiming to have enjoyed her roller-coaster professional life so far, the multiple-time Asian champion said it was nevertheless tough to deal with the fact that she had to stay away from competition for a year.
"I grew as a human being and I love the rollercoaster ride. (But) not playing competitions was the hardest aspect of my life in this one year. I was born to box and not getting an opportunity was the hardest thing during this period," she said.
Olympic bronze-medallist M C Mary Kom recently created quite a stir by claiming that she faced discrimination in selection for being a North-Easterner. But Sarita said she never encountered any such discrimination.
"I have not faced such situations in my career so far and, hopefully, will not face. I think everything in life, not only in sports, should be done according to merit/talent."
Also read:
- Sarita Devi finally receives her Asian Games bronze medal
- Tendulkar presents autographed jersey to Sarita Devi
- AIBA slaps one-year ban on Sarita Devi for medal fiasco at Asian Games