- 'At the moment Manchester City look to be way in front but if we can maintain our performances...and be consistent we might have a chance.'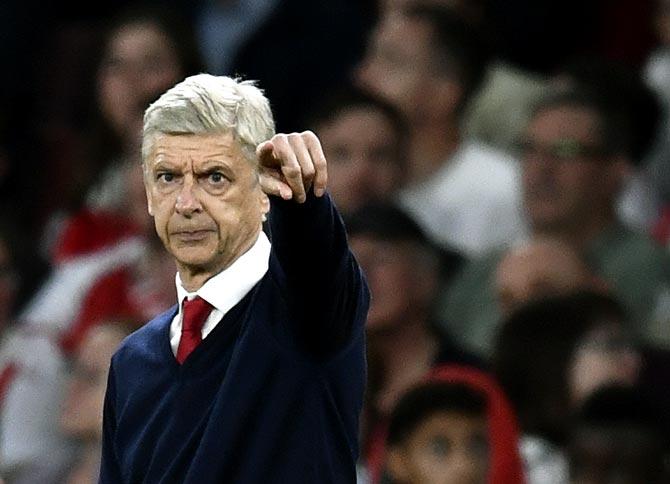 IMAGE: Arsenal manager Arsene Wenger. Photograph: Dylan Martinez/Reuters
For five years, Chelsea were the nemesis of Arsenal and their coach Arsene Wenger so Saturday's resounding 3-0 victory in the London derby represented a psychological boost for the Frenchman.

The last time Arsenal beat Chelsea in the league was in October 2011 and for three years they had not even scored a goal against their cross-town rivals, not counting a 1-0 win in the pre-season Community Shield match in 2015.

"I said before the game that we have some inconvenient facts. They were that we couldn't beat Chelsea for years," a beaming Wenger, who this week marked 20 years in charge of Arsenal, told reporters.

"I think what was very important for me is that a psychological hurdle does not stand in your way," he said. "We have not to make too much of it, but as well not ignore it."

When a reporter's telephone began to ring, he joked: "It's Jose," laughing off his bitter rivalry with Chelsea's former manager Jose Mourinho.

Wenger's side have looked physically intimidated by Chelsea in the past but they were in the driving seat from the start of Saturday's encounter, capitalising on dreadful defending by the visitors to storm into a 2-0 lead within 15 minutes.

Last season, Chelsea striker Diego Costa was involved in the sending off of Arsenal defenders in both league meetings between the two sides.

This time, by contrast, it was Costa who was frustrated as his markers Laurent Koscielny and Shkordran Mustafi snuffed out every chance that came his way, building a platform for Arsenal to punish Chelsea for their defensive shortcomings.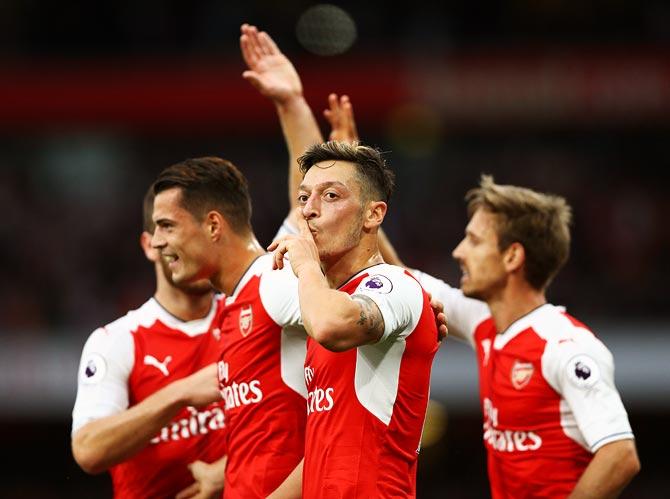 IMAGE: Mesut Ozil, centre, celebrates scoring Arsenal's third goal with his team mates during the Premier League match against Chelsea at the Emirates stadium in London. Photograph: Paul Gilham/Getty Images
By halftime, the game was over as a contest after Mesut Ozil raced into Chelsea's half and bamboozled Cahill and fellow centre half David Luiz with a one-two with Sanchez before scoring Arsenal's third.

Wenger hailed his team's first-half performance as "nearly perfect" and allowed himself to entertain the possibility of winning the title, despite Manchester City winning all six of their games so far to sit five points ahead of Arsenal.

"At the moment Manchester City look to be way in front but if we can maintain our performances...and be consistent we might have a chance," he said.

By contrast, Chelsea coach Antonio Conte was left in no doubt about the size of the challenge he faces to rebuild his team which last year finished a lowly 10th in the Premier League after firing Mourinho in mid-season.

Conte vented his frustration at Chelsea's defensive frailties which has seen them keep a clean sheet only once this season, despite the Italian's reputation for building teams around the defence.

"I must find the right solution for this team because in every game we are conceding two goals, at minimum," he said.