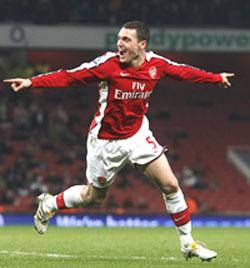 Arsenal defender Thomas Vermaelen suffered a suspected broken leg during the goalless draw at Aston Villa in the Premier League on Wednesday.
The 24-year-old Belgiium international, who has made a huge impact at the Emirates after his move from Ajax Amsterdam last year, limped off after 35 minutes.
"His leg is numb, it might be a nerve, or it might be a fracture of the fibula, we hope not, but we will check it in the morning," Arsenal manager Arsene Wenger told Sky Sports.
Vermaelen scored on his league debut for Arsenal in the season-opening 6-1 win at Everton and has netted six goals in 31 appearances for the club.