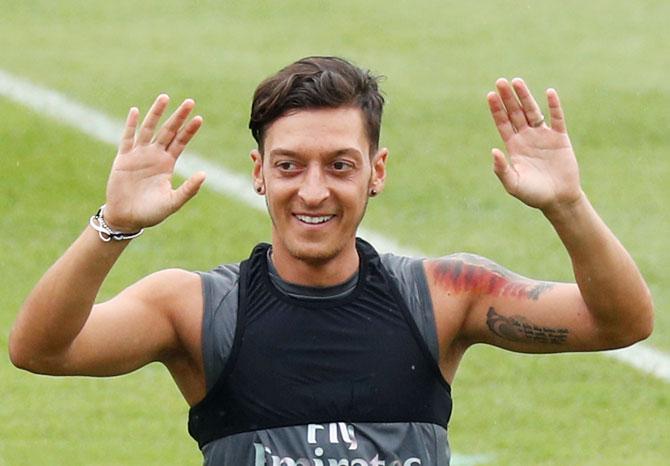 New Arsenal manager Unai Emery told reporters on Wednesday he respects Mesut Ozil's decision to retire from international football due to what the German midfielder said was "racism and disrespect" because of his Turkish roots.
Ozil was the target of criticism for his performances during Germany's disappointing World Cup in Russia, as well as for his meeting with Turkish President Recep Tayyip Erdogan in May.
Ozil and Ilkay Gundogan, a team mate also of Turkish descent who posed with Erdogan as well, were jeered by German fans in warm-up games before the tournament began.
Erdogan said on Tuesday the treatment of Ozil was racist and unacceptable.
The 29-year-old's decision to quit has triggered a bad-tempered public debate in Germany about its relations with its largest immigrant community.
"It's a personal decision (which) I respect," Emery told reporters in Singapore a day before Arsenal play Atletico Madrid in the pre-season International Champions Cup tournament.
Emery, who in May became the Premier League side's first new manager in 22 years after Arsene Wenger stepped down, said Ozil felt at home with Arsenal.
"We are like his home. We are like his family ... We are going to help him to feel good," Emery added.
Ozil has not commented about his decision since his arrival in Singapore on Monday with Arsenal.
Ozil avoided any talk of the controversy surrounding his retirement from international football as the German midfielder opted to focus on the club's pre-season friendly tournament in Singapore on Wednesday.
Making his first public appearance since his retirement statement triggered a bad-tempered debate in Germany about relations with its largest immigrant community, Ozil was all smiles at a fan event in Singapore.
"It's very exciting to be in Singapore. It's our second time here and we really enjoy coming," he told a gathering of Arsenal fans a day ahead of a friendly against Atletico Madrid at the National Stadium. They also play Paris St Germain on Sunday.
"We are expecting good matches against Paris St Germain and Atletico Madrid. They are great teams with great players, it's a test for us to get ready for the new season, so it's something to look forward to."
Arsenal forward Reiss Nelson and midfielder Alex Iwobi sat alongside Ozil at the fan event in Singapore with the former admitting new coach Unai Emery had been very active in his first few training sessions with the club.
"Training has been good and Emery has been a major influence to what we are doing on the training ground," the 18-year-old England youth international said.
"He's looking to bring through the young players as well... pushing them, so they will have a feeling they can shine under the new coach."
Spaniard Emery, who has also managed Valencia, Sevilla and Paris St Germain, was brought in to replace Arsene Wenger after the Frenchman ended his almost 22-year tenure at the helm of the North London club at the conclusion of last season.
Arsenal open the new Premier League campaign with a home fixture against champions Manchester City on August 12.