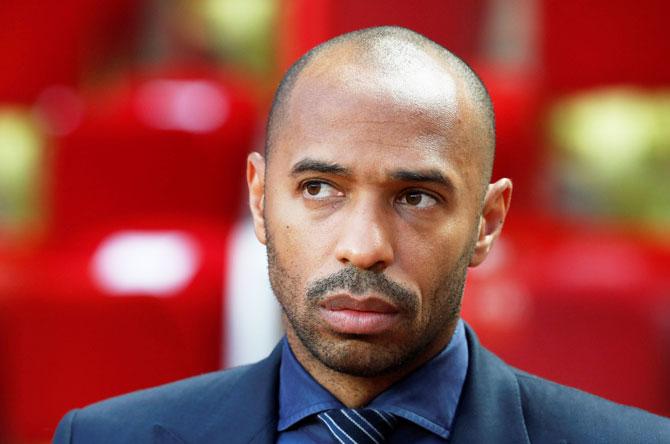 Former France striker Thierry Henry was given his first head coaching role when he was appointed by AS Monaco on a three-year deal to replace Leonardo Jardim who was sacked on Thursday, the Ligue 1 club announced on Saturday.
Henry, who started out playing for Monaco and went on to enjoy a stellar club career with Arsenal and Barcelona, has been working as assistant coach for the Belgian national team but has never been in charge of a team in his own right.
Henry, 41, played for Monaco for five seasons, winning a league title with them in 1997.
"I thank AS Monaco for giving me the opportunity to coach the team of this club which is so special to me," he said.
"I am very happy to come back to AS Monaco and extremely determined to meet the challenges ahead. I cannot wait to meet the players to start working together."
AS Monaco, last season's runners-up, are 18th in the 20-team Ligue 1 table after winning one of their first nine games. They have also lost their opening two games in the Champions League.
Factbox
- Born Aug. 17, 1977 in Les Ulis, Paris.
- Joins French first division club Monaco as a 13-year-old in 1991, making his debut at the beginning of the 1994-95 season under then manager Arsene Wenger.
- Voted French Young Player of the Year a season later and signs a pre-contract agreement with Real Madrid. But as Real made the approach through an agent not registered with FIFA, Henry and the Spanish club are fined and the deal is annulled.
- Scores nine goals in 36 matches to help Monaco win the French championship in 1997 and makes his debut for France at the beginning of the following season.
- Plays in six of France's seven games during their 1998 World Cup triumph on home soil, scoring three first-round goals, although stays on the bench for the 3-0 final win over Brazil.
- Moved to Juventus in January 1999 where he starts just 12 games before joining English Premier League club Arsenal only eight months later for 10.5 million pounds ($13.81 million).
- Henry scores three goals as France win Euro 2000.
- During his eight seasons at Arsenal, the club wins two league titles, three FA Cups and he scores more than 200 goals. Henry also wins a host of personal awards, including the Football Writers' Player of the Year accolade three times.
- Leaves Arsenal in 2007 to join Barcelona, enjoying more success as he wins Spanish, Champions League (2009) and World Club titles.
- Heavily criticised for a handball that helps France beat Ireland to qualify for the 2010 World Cup in South Africa.
- Already France's leading scorer with 51 goals, he is selected for his fourth World Cup in South Africa but left out of the starting side and his only appearances comes as a substitute as France are eliminated in the first round.
- A few days after the World Cup ends, he announces he is quitting Europe to seek a fresh start in the United States with the New York Red Bulls
- Rejoins Arsenal on loan during the MLS off-season in 2012 before returning to New York, having scored a career total of 228 goals in 377 games with the Gunners, 175 in the league.
- Wins two Eastern Conference titles with the Red Bulls and an MLS Supporters' Shield, an annual award given to the team with the best revgular season record.
- Announces retirement from playing in December 2014.
- Becomes assistant to Belgium coach Roberto Martinez in Aug. 2016 and helps them finish third in the 2018 World Cup.