Golfing great Arnold Palmer died on Sunday, aged 87. His death left the golfing fraternity in mourning. Even US President Barack Obama tweeted his respects to the golfing great. Tributes flow…
US PRESIDENT BARACK OBAMA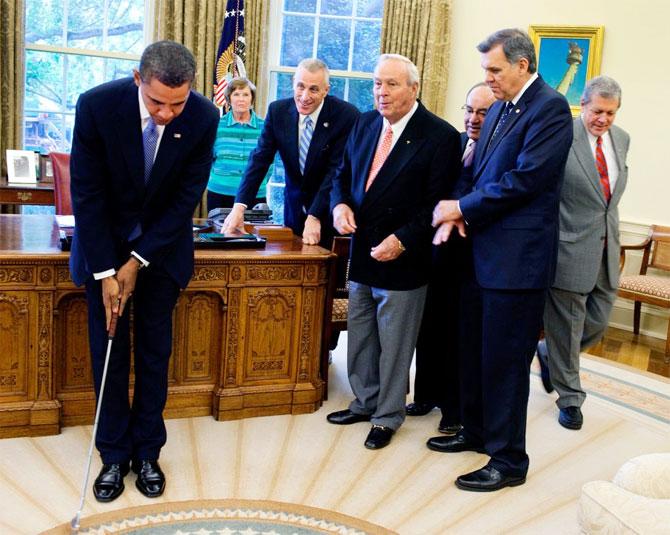 IMAGE: US President Barack Obama gets golfing lessons from Arnold Palmer in the Oval Office of the White House. Photograph: Twitter
"Here's to The King who was as extraordinary on the links as he was generous to others. Thanks for the memories, Arnold."
RORY MCILROY, IRISH GOLFER
"He has meant so much to golf worldwide. Arnold wasn't the most successful player ever but he was the player that brought the game to the masses. If it wasn't for Arnold Palmer, we wouldn't be playing for these obscene amounts of money we play for every week."
JACK NICKLAUS, LONGTIME FRIEND AND RIVAL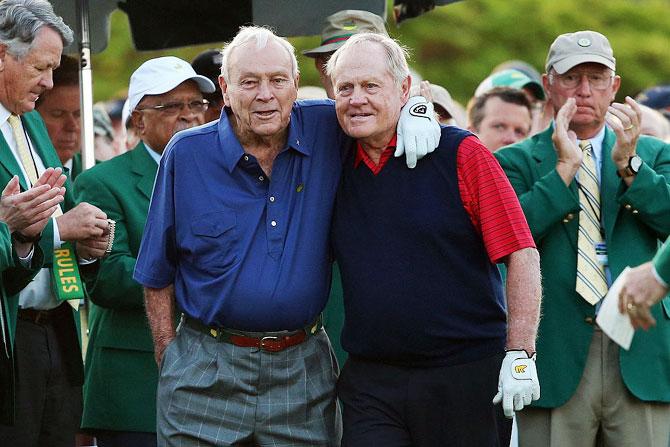 IMAGE: Honorary Starters Arnold Palmer and Jack Nicklaus of the United States wait on the first tee during the first round of the 2015 Masters Tournament at Augusta National Golf Club on April 9, 2015 in Augusta, Georgia. Photograph: Andrew Redington/Getty Images
"Arnold transcended the game of golf. He was more than a golfer or even great golfer. He was an icon. He was a legend. Arnold was someone who was a pioneer in his sport. He took the game from one level to a higher level, virtually by himself."
ALASTAIR JOHNSTON, PALMER'S LONGTIME AGENT
"Today marks the passing of an era. Arnold Palmer's influence, profile and achievements spread far beyond the game of golf. He was an iconic American who treated people with respect and warmth, and built a unique legacy through his ability to engage with fans.
TIGER WOODS, FORMER WORLD NUMBER ONE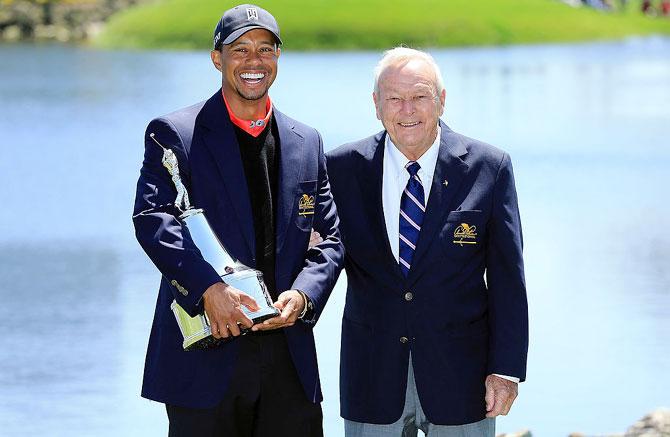 IMAGE: Tiger Woods of the United States with Arnold Palmer at Bay Hill Golf and Country Club on March 25, 2013 in Orlando, Florida. Photograph: David Cannon/Getty Images
"Thanks Arnold for your friendship, counsel and a lot of laughs. Your philanthropy and humility are part of your legend. It's hard to imagine golf without you or anyone more important to the game than the King."
UNITED STATES GOLF ASSOCIATION
"Arnold Palmer will always be a champion, in every sense of the word. He inspired generations to love golf by sharing his competitive spirit, displaying sportsmanship, caring for golfers and golf fans, and serving as a lifelong ambassador for the sport."
GRAEME MCDOWELL, NORTHERN IRISH GOLFER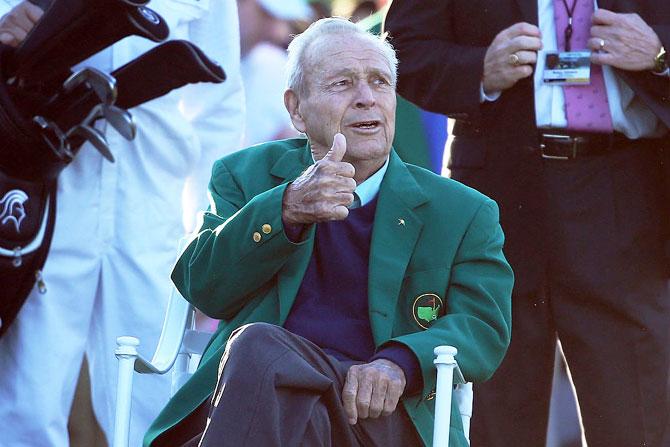 IMAGE: Honorary starter Arnold Palmer attends the ceremonial tee off to start the first round of the 2016 Masters Tournament at Augusta National Golf Club on April 7, 2016 in Augusta, Georgia. Photograph: Andrew Redington/Getty Images
"Just heard the news about #TheKing. Can't believe it. Amazing man and his legacy in the game and in our hearts will live forever."
DAVID DUVAL, AMERICAN GOLFER
"Not a single modern golf fan would be a fan without him. The King made golf cool."
IAN POULTER, BRITISH GOLFER
"Sad news Mr Arnold Palmer past away. Golf has lost its King. His legacy will last forever. Thank you for what you have done for golf.