Former professional cyclist Floyd Landis, who implicated teammate Lance Armstrong in a doping scheme, agreed to a plea deal in federal court in San Diego on Friday, admitting he defrauded supporters out of nearly $500,000 by claiming that he himself had not doped, prosecutors said.
Landis was in court on the same day Armstrong was stripped of his seven Tour de France titles and banned from professional cycling after dropping his challenge to U.S. Anti-Doping Agency charges against him.
Prosecutors said the timing was coincidental and that the case against Landis, who won the Tour de France in 2006 but was disqualified for doping, had been in the works for months.
As part of the plea agreement, Landis, who has acknowledged using performance-enhancing drugs during his career, agreed to repay $478,354 in funds he raised for the "Floyd Fairness Fund" while battling the USADA.
He did not plead guilty but acknowledged wrongdoing under a "deferred prosecution agreement" that calls for prosecutors to dismiss wire fraud charges against him in three years if he lives up to his end of the deal.
"We didn't make him plead guilty but we made him admit the facts that are necessary to get a guilty plea," Assistant U.S. Attorney Phil Halpern said.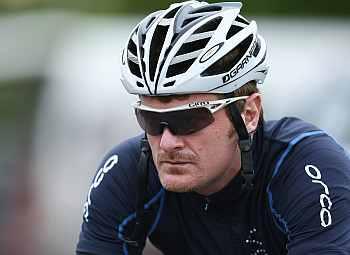 An attorney for the former athlete could not be reached for comment following the hearing.
Prosecutors said that after he tested positive for exogenous testosterone during the 2006 Tour de France, Landis raised money from 1,765 contributors through town hall meetings, online videos, charity rides, a book and personal appeals -- based in large part on his denials that he had doped.
"He lied to thousands of people and obtained hundreds of thousands of dollars by telling them a story that wasn't true," Halpern said. "Anybody who does should be aware that the (U.S. Department of Justice) is not going to give them a pass."
In a statement posted on his website late on Thursday, Armstrong said he would no longer fight the USADA charges against him, declaring "enough is enough."
But in the statement the celebrated cyclist, one of the sporting world's most polarizing figures, maintained his emphatic denial that he had ever used performance enhancing drugs.
Landis accused Armstrong in 2010 of using performance-enhancing drugs and teaching others how to avoid being caught.
Photograph: Teaukura Moetaua/Getty Images