Diego Maradona puts his reputation on the line when Argentina face Paraguay in Asuncion on Wednesday in a qualifier that could tilt his team closer to the abyss of World Cup failure.
Maradona has tried out 62 players since he became national coach 10 months ago but lost three out of five qualifiers and Argentines are bracing themselves for the unthinkable, that they might not make it next year's finals in South Africa.
Argentina's 3-1 home loss to Brazil on Saturday fuelled growing doubts as they fight for the fourth and last automatic spot with only three qualifiers to go.
Defeat on Wednesday would put Argentina dangerously close to missing the tournament for the first time in four decades.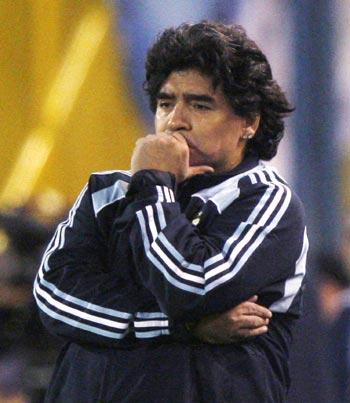 "Maradona's myth is not in danger in terms of what happened to him as a player. The symbol of Maradona is now in doubt as a coach," said Pablo Alabarces, a professor at the University of Buenos Aires who has written a book about soccer and popular culture.
"If he'd proved to be a great coach and ... there was expectation of a World Cup title, his mythic status would have been confirmed," he added.
Maradona, who rose from a Buenos Aires slum to become the nation's most famous son when he led the country to World Cup victory in 1986, was picked to lead the national team last year.
It was a remarkable achievement for Maradona, who has fought against drug addiction, alcohol abuse and obesity since he retired from the game.
HIGH EXPECTATIONS
Memories of his brilliance on the pitch meant expectations were high, and sceptics questioned his limited coaching experience of just two brief stints in the early 1990s with provincial club Deportivo Mandiyu and then Racing Club.
Now fans are starting to get worried.
"He's doing really badly," said Carlos Terry, 67, who was visiting the Boca Juniors stadium, while his son and grandson posed next to a copper statue of the soccer idol.
"He's only coached Racing, and a smaller team. So what experience does he have? All the love and the fanaticism that people feel for him will be lost in this (coaching) stage," he added.
In preparation for the crucial clash in the Paraguayan capital, Maradona has made several changes to his team and focused on training away from the glare of the media.
But whatever happens on Wednesday, his name will live on as one of the greatest footballers ever.
In the working-class Boca neighbourhood, Maradona's image and the number 10 of his soccer jersey are daubed across walls in the sky-blue and white of the national flag.
"Even if he loses the next game 20-0, his image won't be affected," said Jorge Godoy, 55, who has dedicated a whole room in his soccer store to Maradona merchandise.
"What he's done in the past can't be taken away."