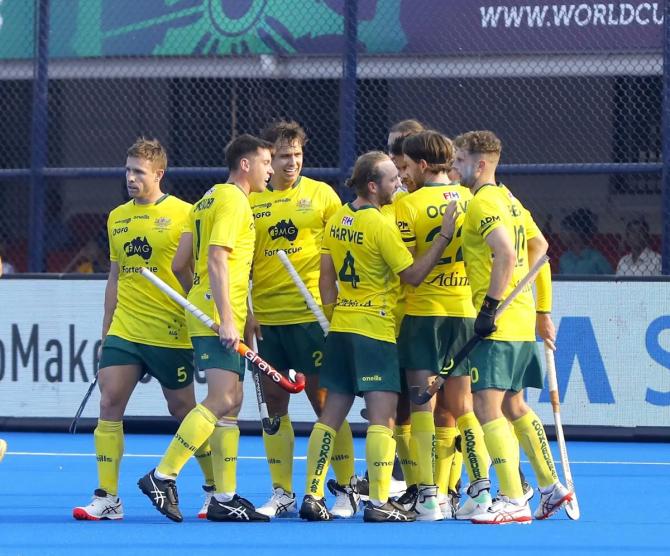 Australia's players celebrate after Tom Craig scores his third goal and the team's seventh during the men's hockey World Cup match against France in Bhubaneswar on Friday.
Jeremy Hayward and Tom Craig scored a hat-trick each, the first of the tournament, to hand Australia a convincing 8-0 victory over France in a Pool A match of the men's hockey World Cup, at the Kalinga Stadium in Bhubaneswar, on Friday.
While Craig scored three field goals, in the eighth, 31st and 44th minute, Hayward converted three penalty-corners in the span of 12 minutes as world Australia cruised home.
Hayward sounded the board in the 26th, 28th and 38th minute from set pieces.
Earlier, in the opening match of the tournament, former Olympic champions Argentina were made to toil by world No. 14 South Africa before registering a 1-0 win in Pool A.
After a barren and hard-fought first two quarters, Argentina, the 2016 Olympic champions, scored the winner in the 42nd minute through a field effort from Casella Maico.
But it was far from rosy for the Los Leones as South Africa pressed hard in the first quarter but failed to convert their chances into positive results.
In the second quarter, Argentina came back strongly and secured three penalty-corners in succession but wasted all as South Africa defended stoutly.
After the change of ends, South Africa had the first shy at the goal in the form of a penalty-corner but the opportunity was wasted.
Argentina broke the deadlock in the 42nd minute when Casella capitalised on a counter-attack and scored a brilliant field goal from Toscani's pass.
Down a goal, South Africa came out attacking in the fourth and final quarter, but the Argentine defence stood firm to stifle their opponents' forays.
Argentina will take on world No.1 Australia on January 16 in Bhubaneswar, while South Africa play France in their next pool match on the same day.