For five days in Milan it will be tennis on fast-forward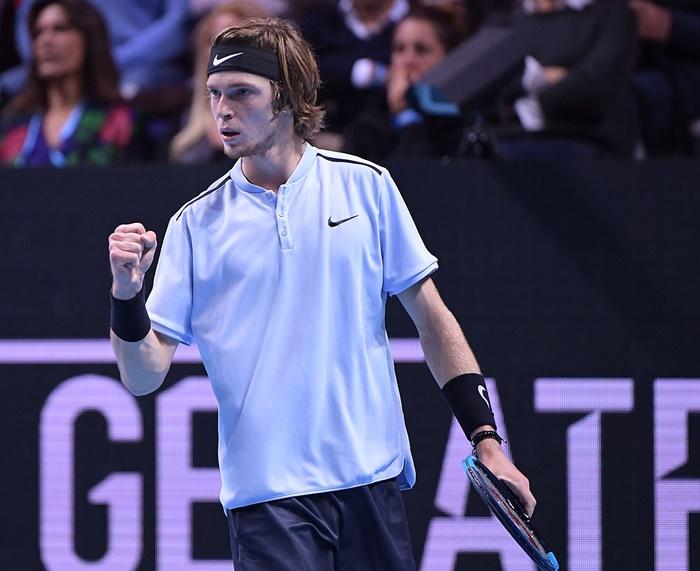 IMAGE: Top seed Andrey Rublev at the Next Gen ATP Finals. Photograph Courtesy: ATP World Tour.
The future arrived late but after some old-fashioned glitches, two Russian trailblazers fired the first shots in what could be a revolution in tennis at the Next Gen ATP Finals on Tuesday.
"Tennis Re-invented" is the catchphrase of the tournament launched this year by the ATP to showcase the young men it hopes will lead it towards a brave new world, together with some drastic rule changes designed to catch a wave of new fans.
Sunday's draw ceremony, branded as "sexist" and "trashy", was hardly an encouraging start -- forcing the ATP and sponsors Red Bull to apologise after players had to select glamorous models to determine their round-robin group.
And talk of 'enhanced fan experiences' looked a little lame when, minutes before Karen Khachanov and Daniil Medvedev were scheduled to appear for the event's opening salvos, they were forced to wait outside while workmen welded pieces of the temporary stadium together.
It hardly felt state-of-the-art.
Yet once the crowds, the majority of them children, eventually filled the humongous aircraft hanger-sized hall at the Fiera Milano, there was much to savour as Khachanov and Medvedev showcased their considerable skills -- and new rules that would make traditionalists wince.
"I really liked it. It was very fun for me, I mean, it's something new and fresh," 21-year-old Medvedev, who announced himself by beating Stanislas Wawrinka at Wimbledon this year, said.
There is a school of thought that men's tennis, still in the midst of its golden era, is not broken. So don't fix it.
Yet the ATP knows the clock ticks ever louder on the careers of Roger Federer, Rafael Nadal, Novak Djokovic and Andy Murray - who are all in their 30s - and must fill the void.
That is why they have invested so much into creating this week's Next Gen ATP Finals featuring the top seven players aged 21 and under and an Italian wildcard, albeit without world number three Alexander Zverev who pulled out to focus on next week's ATP Finals showpiece in London.
For five days in Milan it will be tennis on fast-forward.
On a two-tone blue singles only court, backdropped with a red mock-up of Milan's iconic La Scala opera house and DJ spinning his discs, things did feel very different indeed.
For starters sets were played to four with a tiebreak at 3-3. With no advantage points, deuce effectively became 'sudden death'. Five of the first six games of the match, eventually won by Medvedev in one hour 48 minutes, were decided that way.
A shot-clock ticked away in the corner to enforce the 25-second rule between points -- ironic in light of a 30-minute delay to the day's action.
Electronic Hawkeye calls replaced line judges with an automated, rather unnerving, British accented voice calling instantaneously "OUT" or "FAULT".
It didn't make any "stupid mistakes" Medvedev said, although Khachanov did not like the tone of the voice.
The Italian crowd, eventually a decent-sized one, were under no obligation to stay silent, or still, during play meaning a constant hubbub soundtracked the matches.
"It was really tough at the beginning to try to focus on your game," Medvedev said.
Even experienced Brazilian chair umpire Carlos Bernardes, the only human official on court, got left behind at times.
At one point he instinctively called out "let" when a Medvedev serve flicked the net -- forgetting that serves that flick the net, for this week at least, are allowed.
Another novelty was the sight of the players wearing headphones at the end of sets -- not to listen to their favourite tunes, but to take advice from their coaches.
Guinea pigs they may be, but a "hit and giggle" end to the year it was not as world number 45 Khachanov and Medvedev, ranked 20 places lower, produced a high-octane duel, Medvedev opening Group B with a 2-4, 4-3(6), 4-3(3), 4-2 win.
Later South Korea's Hyeon Chung, who was asked to remove a model's glove with his teeth to reveal his group in the draw on Sunday, looked more comfortable beating Canada's Denis Shapovalov 1-4, 4-3, 4-3, 4-1.