Glimpse of future as ATP shakes it up in Milan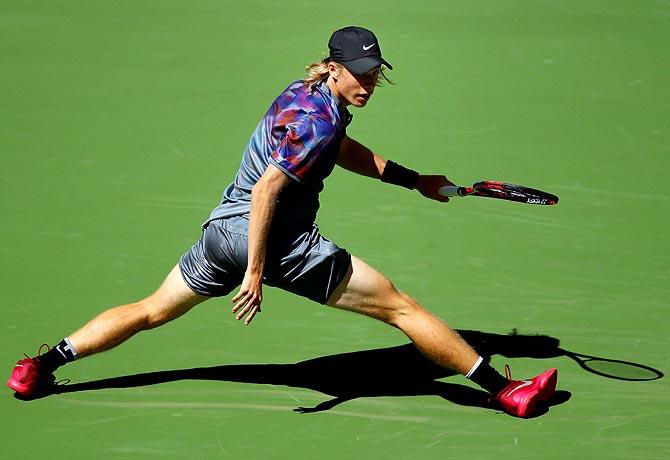 IMAGE: Denis Shapovalov in action. Photograph: Clive Brunskill/Getty Images
Men's tennis steps into the unknown next week when the young guns expected to follow in the footsteps of the current golden generation contest the inaugural Next Gen ATP Finals in Milan.
Not only will the five-day tournament showcase exciting talents such as Canadian Denis Shapovalov and rising Russian trio Andrey Rublev, Karen Khachanov and Daniil Medvedev, it will trial some new innovations aimed at "future-proofing" the sport.
Several other sports, notably cricket, have adopted new shortened formats to appeal to a younger generation of fans, both at venues and on television.
The Next Gen ATP Finals, eligible to players aged 21 and under, will attempt to follow suit by offering a glimpse of potential Grand Slam battles over the next decade.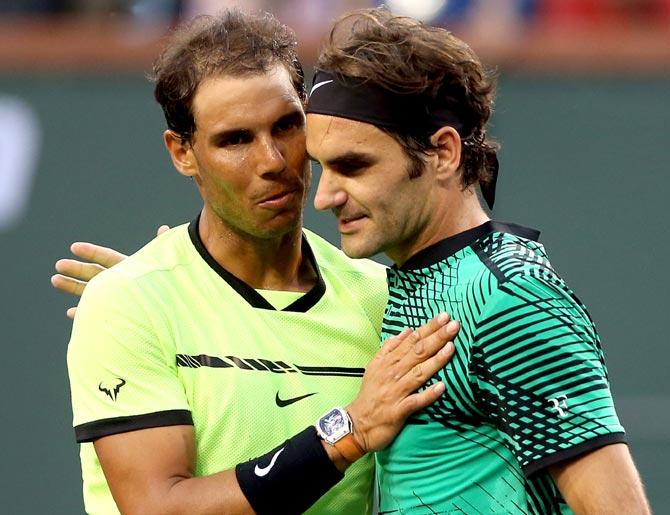 IMAGE: Rafael Nadal, left, with Roger Federer. Photograph: Matthew Stockman/Getty Images
Perhaps motivated by the void looming when the likes of 30-somethings Roger Federer, Rafael Nadal, Novak Djokovic, Andy Murray and Stanislas Wawrinka decide to hang up their rackets, the ATP is determined to adapt to a changing marketplace.
Next Gen trailblazer Alexander Zverev will be missing in Milan after a stunning year allowed the German to qualify with the 'big boys' for the following week's ATP Finals in London.
But in the likes of Shapovalov, ranked 51 in the world, 45th-ranked Khachanov and Rublev, the highest-ranked at 37, the men's Tour body has an embarrassment of riches as it launches a tournament it hopes will become established on the calendar.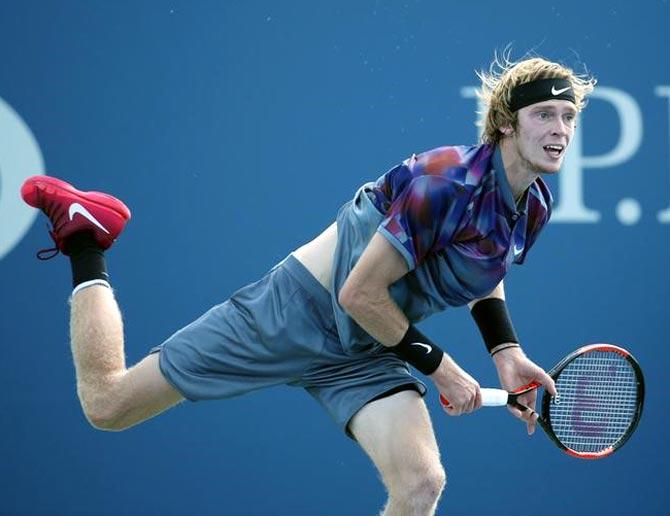 IMAGE: Andrey Rublev serves. Photograph: Jerry Lai-USA TODAY Sports/Reuters
The qualifiers appear happy to be "guinea pigs" for the new format featuring, amongst other things, short sets, on-court coaching, shot clocks and electronic line calls. But they are wary of turning their backs on tradition.
"I don't think this will be the future and I hope they don't change the rules because then they change the sport," 20-year-old Rublev, who claimed his first ATP title this year, said.
"It's better to make a new sport if they are going to change the rules."
American Jared Donaldson thinks some of the tweaks the ATP will trial next week could find their way to the main Tour.
"There is a fine line between innovation and when it becomes a novelty and I think that is something that must be closely watched," the 21-year-old world number 55 said in a conference call after booking his place in the tournament.
"But there are rules that could benefit the game."
Donaldson said he likes the idea of shorter warm-ups, saying the five-minute knock-up players get before matches is too long and can turn off television viewers.
But the idea of replacing line judges with machines is a step too far, Donaldson believes.
"I do think that anything that can innovate the game and make it more exciting and watchable is good," he said.
"Electronic line calls? I think that is a negative for the sport. As a fan of tennis I really enjoy the Challenge system, it's better than in baseball and American football.
"Reviews are crowd engaging and that is a positive. But you never know maybe people will love it."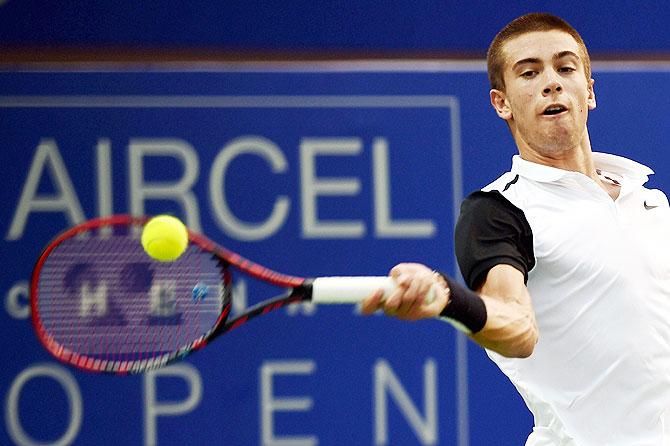 IMAGE: Borna Coric of Croatia in action. Photograph: Senthil Kumar/PTI
Croatia's Borna Coric is happy to be part of a new vanguard and thinks scrapping the let rule on serve -- which will be the case in Milan -- is a good idea.
"The no-let rule I like," Coric, the most experienced, if not the oldest, player in Milan, said. "If you hit a good forehand and it clips the net you don't stop the point.
"So the serve should be the same.
"The other rules? I'm not necessarily for or against them but I will go with the flow."
The other players in Milan are South Korean Hyeon Chung and a yet-to be-decided Italian under-21 wildcard.
Round-robin play starts on Tuesday.