Ace archer Deepika Kumari was on Sunday shocked by Rimil Buriuly in the gold medal match of women's recurve event at the 3rd National Ranking Archery Tournament held at the Yamuna Sports Complex in New Delhi.
In a see-saw battle, the 19-year-old was beaten in the tie shootout 2-0, 2-0, 0-2, 0-2, 1-1 (10-10) as Rimil's shot was closer to the centre.
Initially Deepika, representing Steel Plant Sports Board, took a two-set lead. But Rimil held her nerve and fought back by winning the next two sets. In the deciding set the points were tied. In the tie shoot both the archers hit a ten pointer but Rimil's shot was closer to the centre.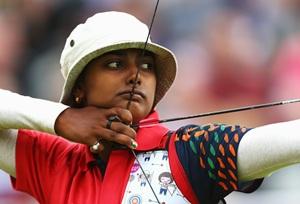 "I am happy with my performance. The weather condition was hot and humid. This effect on the performance especially we came into the event straight after the 2nd leg of World cup where weather condition was cold," Rimilsaid.
Rimil, representing Railway Sports Promotion Board, made it clear that beating Deepika or any individual was not her target. She just wanted to excel and fight till the last.
In the men's recurve event, Atanu Das won the gold medal by beating Tarundeep Rai by six sets to four.
Tarundeep, representing "Services Sports Control Board" lost to Atanu 4-6 in a mouth-watering final event.
Talking about the positives of this National event, he said the facilities that were provided during the event would help the archers to cope well during International events.
In the women's compound Gold match, V Jyothi Surekha defeated Manjudha Soy, who won Silver in the Mixed compound event at Turkey.
In the Men's compound Gold medal match, Rajasthan archer Rajat Chouhan defeated Delhi boy Abhisek Verma 146-139.
In the women's recurve event, veteran Dola Banerjee defeated L Bombayla Devi 6-2 to take the third position.
In the men's event, Jayanta Talukdar who won the mixed silver with Deepika in China, thrashed Priyank 6-0.
In women's compound, Trisha Deb defeated P Lily Chanu to secure the third position. Incidentally, they had bagged the women's compound Bronze in first leg of the World Cup in China.
In the men's event, Sandeep Kumar defeated Ratan Singh in a tie shootout to secure the third position.
Image: Deepika Kumari
Photograph: Paul Gilham/Getty Images