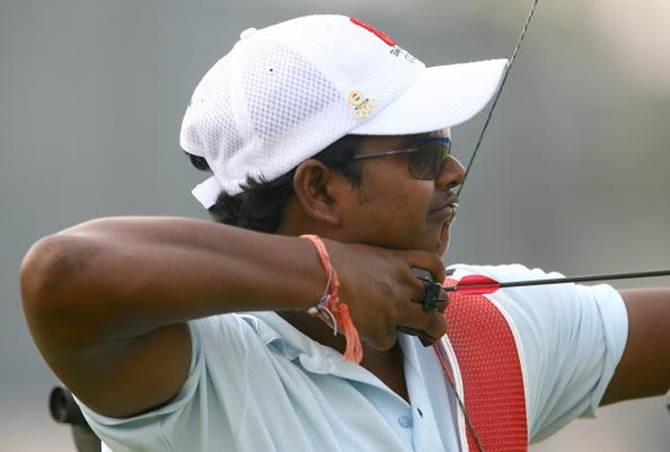 IMAGE: Mangal Singh Champia. The Jharkhand archer is a four-time World Cup gold medalist in team events. Photograph: Jeff Gross/Getty Images
Former Olympian and chief coach Limba Ram says the Archery Association of India did 'grave injustice' to Mangal Singh Champia by denying him a place in the team for the Rio Olympics.
"Mangal deserved to have gone to Rio. He earned you the quota. It's grave injustice to him," Limba, now a sports officer in the Rajasthan government, said from Dungarpur.
"I feel sad for him. He did not have any support and missed out on the Olympics. His experience would have come handy."
Mangal earned the individual quota at the World Championship in Copenhagen last year. However, the AAI picks the best archer on current form.
After the trio of Champia, Atanu Das and Jayanta Talukdar failed to earn a team berth at the World Cup Stage III in Antalya, the AAI, following a trial at the Sports Authority of India centre in Bengaluru, picked 24-year-old Kolkata lad Atanu for his maiden Olympics.
Das had a bonus point advantage, having made the semi-finals at the World Cup in Antalya.
But Limba said the rule could have been be altered.
"I'm sure if it was someone else, they would not have conducted a trial," he said, about the Jharkhand archer, who is a four-time World Cup gold medalist in team events.
Incidentally, on current form, 13th ranked Talukdar is the best among the Indian men's trio. Atanu is ranked 22nd while Mangal has a poor ranking of 33.
"You always go through ups and down. You should always back your athlete if he's not doing well. Mangal also needed some support. He would have peaked at the right time."
An AAI official said the selection process was fair enough and Das is the deserving candidate.
"Das is the best Indian male archer at the moment. AAI always selects on the basis of a trial; it was no different this time."