Indian golfer Anirban Lahiri held his nerves to notch up his first Asian tour title, clinching the Panasonic Open by beating overnight leader Mardan Mamat and compatriot Manav Jaini in a three-way play off on the final day of the tournament in New Delhi.
After ending the regulation four rounds on 13-under 275 along with Mamat and Manav, Anirban sank in a birdie at the 18th hole to notch up a thrilling win in the first play off of his career at the Delhi Golf course.
Going into the final round three-stokes off the pace, Anirban managed an erratic one-under 71, but his senior colleague Mamat returned a two-over 74.
Among the trio, Manav had the best score of two-under 70 in the final round but the Delhi golfer missed a two-feet birdie putt in the play off to miss out of a career first title at the $300,000 Asian Tour event which is co-sanctioned by the Professional Golf Tour of India (PGTI).
"It feels great. It took three years to win an Asian tour event. It took a lot of work. I feel relieved. There was a lot of baggage of my past as I have never won in the DGC. Somebody once told me that if I could win at the Delhi Golf Club, I would probably be laughing. This is really a special feeling for me," he said.
Early in the day, it was Manav who produced some superb golf to put pressure on overnight leader Mamat as he picked up two birdies in the first and seventh and then earned another shot in the eighth hole, where the Singaporean dropped a bogey to catch up with Mamat at 14-under.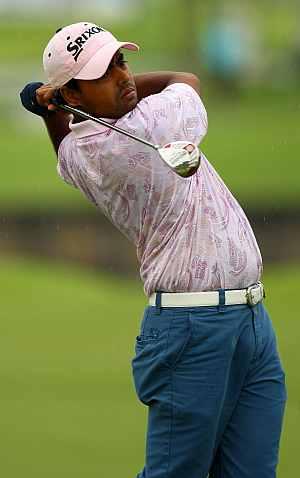 Manav even shot up to the lead with a birdie on the 11th hole, ahead of Mamat and Anirban but a brilliant eagle at the 14th helped Anirban catch up with the rest at 13-under.
Anirban and Manav held on to their scores by parring the rest but Mamat, who had picked a birdie on the 15th, chose a wrong iron on the 17th hole to drop two strokes before managing to catch his younger colleagues at 13-under with a birdie at the 18th hole and took the event into a play-off.
"It was a bad club selection and it cost me dearly," said Mamat who chose to use a six-iron on the par-three 17th.
"It was not my day but what I can take from this week's performance is that I've have the ability to compete at the highest level and I'm looking forward to Malaysia next week," said the 43-year-old Singaporean.
Anirban was also not too satisfied with his game but he was not complaining.
"I had a cold putter today. I didn't have a great game, I wasn't swinging it well but I am happy I could win it even with my B game," he said.
"I'm happy that I kept myself in it because I was always trailing in the back-nine so I'm really happy to be able to come from that position and win," said Anirban.
"When I was at the 10th hole, I told myself I have to start afresh. I respond well under pressure and I am happy I could pull it off.
"Before the play-off started, I gave a quick call to my psychologist and he told me to concentrate and believe in my abilities and I guess it paid off," he added.
Jaini finished in the top-five in his last three starts at the Delhi Golf Club, his home course, and was in the best position to win his first title but was left disappointed.
"I missed several short putts especially in my last four holes. That cost me the tournament," said Jaini.