Mcllroy invites Shubhankar for a practice round before Masters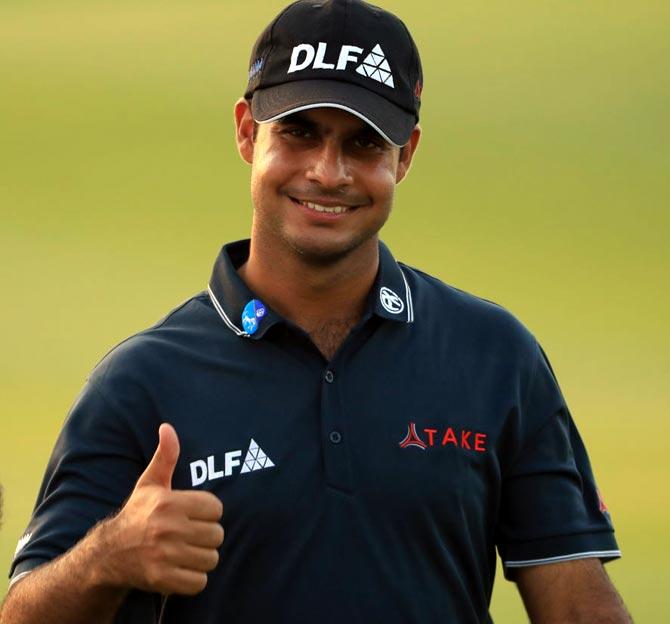 IMAGE: When Shubhankar was informed about Mcllroy's invitation, the Indian smiled. Photograph: Andrew Redington/Getty Images
Rising Indian golfer Shubhankar Sharma continues to live a dream as four-time major champion and former world no 1 Rory Mcllroy has extended an invitation to him for a practice round at the Augusta National Golf Club before the Masters begins in April.
When Shubhankar was informed about Mcllroy's invitation, the Indian smiled.
"I got to know now, I am very happy. He is an ideal of me and I would love to play a practice round with him. Let's see when I get there. I have never met him but obviously have seen him, we have played in the same tournament in Dubai and Abu Dhabi and followed him for many many years so it would be nice," Shubhankar said.
Mcllroy, who is playing this week at Valspar Championships on the PGA Tour, said, "I've been able to watch a little bit of him on TV. Obviously he's won a couple times on the European Tour, had a good chance to win and played in the final group last Sunday with Phil Mickelson."
"Playing in the Masters will be a great experience and my best advice for him is to just embrace the week and have fun and enjoy yourself. The more you can do that, the more Augusta lends itself to letting you just play. If you just go out and play and be creative and sort of use your imagination, you can have a really great week.
"So it's great to see it and great Augusta afforded Sharma an invitation," Mcllroy said at Palm Harbor, Florida.
And when asked if he would be happy to play a Masters practice round in the company of Sharma, Mcllroy happily agreed.
"Yeah. Yeah, like I'm -- I got a game arranged on Monday and -- yeah, of course I would love to have him join me for a practice round," said Mcllroy.
"I always try to play with some of the guys that to play a practice round. I don't know if they want to pick my brain or someone else's."
After revealing that he played two days of practice last week at the Augusta National, Mcllroy's advice to Sharma was timely as he was asked to recall his first experience of being at Augusta National in 2009, when he was a month shy of his 21st birthday in 2009.
"I felt the first time I was there at Augusta it was not the enthusiasm or being anxious but I was intimidated by the place," said Mcllroy.
"That was my feeling of being at Augusta but the more I've gotten to know the staff and I've gotten to know the caddies, gotten to know quite a lot of members, it's not so intimidating anymore. '
"So, I feel a lot more comfortable not just playing the golf course but just in the grounds. That can be quite an unnerving place the first time you go. I'm a lot more comfortable there."
Shubhankar burst onto the scene with a win at the Joburg Open in December last year to qualify for The Open Championship. He then clinched the Maybank Championship by two strokes at Malaysia for his second European Tour title.
The 21-year-old then held the 54-hole lead at his first World Golf Championship last week before ending the tournament at a creditable tied ninth. His exploits earned him a special invite to the Masters next month.
Currently playing at the 54th Hero Indian Open, Shubhankar made an amazing recovery after being five over at the turn to return with one-over after the first round at the DLF golf course.