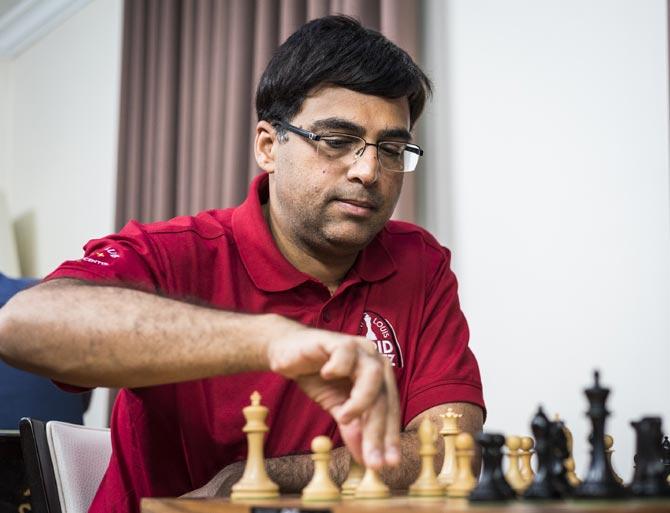 IMAGE: Viswanathan Anand in action. Photograph: Kind Courtesy, Lennart Ootes/Grand Chess Tour
Former World champion Viswanathan Anand had another bad outing, drawing seven and losing two games, to remain on joint eighth place after the end of nine rounds of blitz in the St. Louis Rapid and blitz chess tournament in St. Louis, United States.

Having garnered just seven points out of a possible 18 in the rapid section, Anand needed a big breakthrough in the blitz tournament spanning over 18-rounds but he was not in his best shape to make a mark.

Losing a clear better position against tournament leader Levon Aronian of Armenia and a forced drawn position to Sergey Karjakin of Russia, Anand drew the remaining seven to reach just 10.5 points and now the podium is out of his reach.

Aronian, meanwhile, continued with his good run and scored 6.5 out of nine in the blitz games to lead the tables by a two-point margin over Hikaru Nakamura of United States who is on 16.5 points.

The blitz belonged to Karjakin who scored a massive eight out of nine points winning seven and drawing just
two games in the day. Lucky on some occasions, Karjakin jumped to sole third spot on 16 points and another similar outing on the final might even see finish top.
The euphoria surrounding Garry Kasparov's comeback just doesn't seem to subside. The 13th World champion who ruled the chess board for about 20 years till his retirement in 2005, also scored 3.5 out of nine like Anand with the difference being his three losses and one win against Anand's no wins.
The mutual encounter between the two was a treat for the chess-buffs as it saw a few ups and downs before the game was drawn. This was the second draw in a row after the two had split the point in the rapid section too.
It may be recalled that Anand had lost a World championship match against Kasparov in 1995.
Anand and Kasparov are by far the oldest two players in the $150000 prize money event and both would like to finish on a positive note.
The final day will again see nine rounds of excitement when all ten players play another round of blitz with colours reversed.
Standings after 18 rounds:
1. Levon Aronian (Arm, 18.5); 2. Hikaru Nakamura (Usa, 16.5); 3. Sergey Karjakin (Rus, 16); 4. Ian Nepomniachtchi (Rus, 15); 5. Fabiano Caruana (Usa, 14.5); 6-7. Le Quang Leim (Vie), Lenier Dominguez (Cub) 12 each; 8-9. V Anand (Ind), Garry Kasparov (Rus) 10.5 each; 10. David Navara (Cze, 9.5).