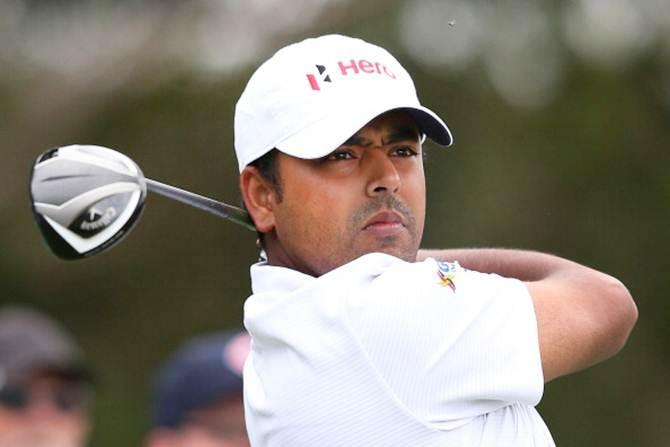 Anirban Lahiri. Photograph: Michael Dodge/Getty Images
Anirban Lahiri's victory at the Venetian Macau Open on Sunday edged him closer towards the Order of Merit summit while giving him a huge boost on the Official World Golf Ranking (OWGR).
The immensely talented Indian won a cool US $162,000 following his victory over Scott Hend to increase his season's earnings to US $504,689.
He currently trails Merit leader David Lipsky of the United States by US $164,481 as they head into the lucrative US $7 million CIMB Classic, which is sanctioned by the Asian Tour and PGA Tour in Malaysia this week.
Lahiri also moved closer to the top-50 on the OWGR as his Macau triumph pushed him to 69th place after gaining 17 world ranking points, the third highest points received by a winner in professional golf tournaments last week.
"Where I am right now in my career, I had set myself targets, the bigger picture which is to break the top-50 by the end of the year. For me to threaten that, I've got to keep playing like this," explained the 27-year-old Lahiri.
He showed true spirit at the Venetian Macau Open and never gave up despite at one point trailing an in-form Hend by four shots.
Lahiri believes his confidence will spill over into the remaining Asian Tour events, starting with the CIMB Classic, which gets underway on Thursday.
"I have now grown as a player, maybe from 24 months back. My game is there so I know I can compete against the best players in the world. There are still some areas that I know I must get better. I'm working on it and it's obviously improving," said Lahiri.
"It is fantastic to win my second title, which was also my target earlier in the year. Lots of positives. I missed the cut in Hong Kong after a long time so I had time to think about what I was doing wrong and how was I was not thinking positively on the course. I'm happy I managed to turn that around after a bad week (two weeks ago)," he added.
"This is the time of the year where you want to play your best golf. We've got the biggest events with prize money and world ranking points and there are a lot to play for. I'm playing well and I'm confident. I'm focused on what I need to do," said Lahiri.
Lipsky maintained his lead on the Order of Merit on US $669,170 but faces a strong challenge from Lahiri while Hend, who won the Hong Kong Open two weeks ago, sits in third position on US $347,444.
Meanwhile, Prom Meesawat (US $258,137) of Thailand and Filipinos Antonio Lascuna (US $230,573) and Angelo Que (US $190,855) are ranked in fourth, fifth and sixth positions respectively on the Order of Merit.
The Asian Tour will head to the US $7 million CIMB Classic in Malaysia this week. The leading 10 players on the Asian Tour Order of Merit will challenge for honours against the PGA Tour stars at the Kuala Lumpur Golf and Country Club.
Asian Tour Order of Merit – Top-20
Pos Player Earnings (US$)
1. David LIPSKY (USA) $669,170.10
2. Anirban LAHIRI (IND) $504,689.21
3. Scott HEND (AUS) $347,444.49
4. Prom MEESAWAT (THA) $258,137.84
5. Antonio LASCUNA (PHI) $230,573.44
6. Angelo QUE (PHI) $190,855.79
7. Jason KNUTZON (USA) $188,121.43
8. Rikard KARLBERG (SWE) $178,127.74
9. Steve LEWTON (ENG) $176,784.29
10. BAEK Seuk-hyun (KOR) $175,658.20
11. S.S.P. CHOWRASIA (IND) $163,392.36
12. Kiradech APHIBARNRAT (THA) $161,985.82
13. Cameron SMITH (AUS) $161,476.26
14. Thaworn WIRATCHANT (THA) $158,954.81
15. Chapchai NIRAT (THA) $151,176.57
16. Rahil GANGJEE (IND) $147,090.42
17. Adilson DA SILVA (BRA) $121,018.66
18. Jyoti RANDHAWA (IND) $106,071.97
19. Marcus BOTH (AUS) $102,103.57
20. Shiv KAPUR (IND) $98,803.32