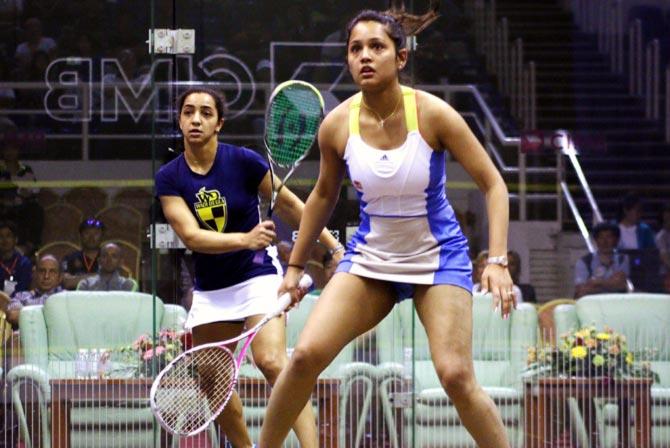 Dipika Pallikal (right) of India in action. Stanley Chou/Getty Images
Upset with the 'manipulative' singles draw, India's top squash player Dipika Pallikal is "seriously considering" pulling out of the upcoming Asian Games in Incheon.

Pallikal and her team mate Joshana Chinappa are drawn to meet in the quarter-finals a month after winning India's first ever squash medal at the Commonwealth Games, where they bagged the gold in the women's doubles. According to the competition rules, two players belonging to the same country cannot be in the same half of the draw.

"It is disheartening to see the draw like this. Clearly the draw makers have not gone by the rules and put Joshana and I in the same quarter, let alone the half. I have already written to our federation to appeal against the manipulated draw but I am yet to get a reply. I am surely going to think about pulling out if the draw is not set right," Pallikal said on Thursday.

The World No. 12 further said: "It (the draw) robs India of a chance of getting two medals in the women's singles. It can't be a coincidence that the draw has been manipulated for three Asian Games in a row to assure India a medal. It is a wrong approach. Both Joshana and I are capable of winning medals."

A semi-final appearance is enough for securing a bronze at the Asian Games.

India's top male player Saurav Ghosal had won back-to-back bronze in the 2006 and 2010 edition beating compatriots Ritwik Bhattacharya and Siddharth Suchde respectively.

Besides Ghosal's medal, India had won a bronze each in the men's and women's category of the team championships.

Pallikal and 21st-ranked Chinappa are scheduled to face-off in the last eight on September 21 if they win their respective opener against China's Jinyue Gu and Korea's Sunmi Song. The draw was announced on September 4 in South Korea under the supervision of Karl Mak, technical delegate of the Asian Squash Federation (ASF).

Interestingly, India has a significant clout in the administration of world squash with N Ramachandran being the president of world body WSF and patron of the ASF.