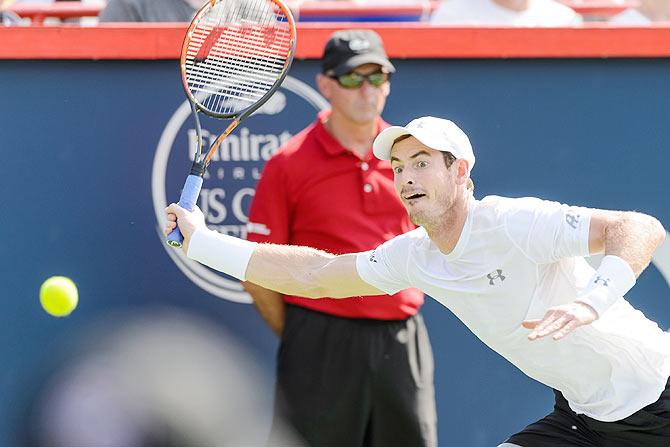 IMAGE: Great Britain's Andy Murray. Photograph: Minas Panagiotakis/Getty Images.
Andy Murray's charge towards the world number one ranking continued as he beat Frenchman Jo-Wilfried Tsonga 6-3 7-6(6) to claim the Vienna Open title on Sunday.
The Briton, seeking to end Serbian Novak Djokovic's stranglehold on the number one spot by the end of the year, was cruising towards his third consecutive title before Tsonga turned the match into a real fight.
Murray was 3-1 ahead in the second set and had three break points to move 4-1 ahead but Tsonga dug in and began to play some stunning tennis to the delight of the crowd.
Tsonga broke for the first time to level the set at 4-4 when Murray made a rare unforced error and began hitting with ferocious power to shake the Scot.
The 29-year-old Murray, who won the titles in Beijing and Shanghai to eat into Djokovic's lead in the rankings, would not be denied though and played a typically solid tiebreak.
He failed to convert his first match point when he netted a forehand return but set up another with a brilliant flicked backhand down the line off a cute Tsonga dropshot.
He then nailed a first serve to complete victory and secure a career-best seventh title of the season.
Murray's 15th consecutive match win means he could overtake Djokovic by winning next week's Paris Masters before the season concludes at the ATP World Tour Finals in London.
He is now only 415 points in arrears of the Serb who will be under pressure to try to defend his title in Paris.
Should Wimbledon champion Murray overhaul Djokovic he would become the oldest first-time world number one since John Newcombe scaled the summit aged 30 in 1974.