Anand Pawar, ranked 43rd in the world and a member of the Indian Sudirman Cup team, became the latest Indian player to slam the Indian Badminton League after he went unsold at the IBL players' auction while other lower-ranked Indian players were snapped up by the six franchises.

"Sad and unhappy to see that I haven't been picked in the Indian Badminton League auction even after making a semi-final of the India Super Series event a few months back and also being part of the Indian Team for the Sudirman Cup. Could it just be bad luck or...?," he has written on his Facebook page after being snubbed at Monday's auction in New Delhi.
- PHOTOS: 10 hottest buys of the Indian Badminton League

"Well, it's hard to think of next year when 13 Indian men's singles players have been sold and I'm the only one who hasn't!" Pawar added.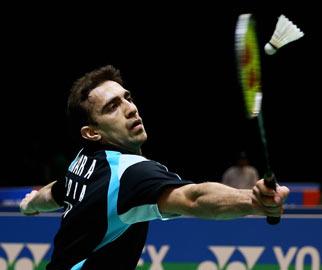 According to badminton sources, Pawar and Ajay Jayaram, ranked 24th in the world behind the highest ranked Indian Parupally Kashyap (13th) and Gurusaidutt (21st), were the last two men's singles players from India who were available for selection at the auction, but by then most of the franchises had exhausted their money in buying other players.

"In fact all the Indian players were put together and a lot was taken and these two were the last names to be picked. While Ajay was picked (by Hyderabad Hotshots for US $25,000), Pawar was left in the lurch as the lone Indian player in the top 14 ranks not to be bought," they said.

They also pointed out that at the same time some lower ranked players like H S Prannoy (world rank 51), Arvind Bhat (71), Anup Sridhar (122) and Aditya Prakash (216) were surprisingly bought at the auction.

The sources also added that it was surprising to see current national women's singles champion Sayali Gokhale failing to find a buyer from any of the six franchises.

IBL's inaugural edition will be held across six cities from August 14-31.
Photograph: Matthew Lewis/Getty Images