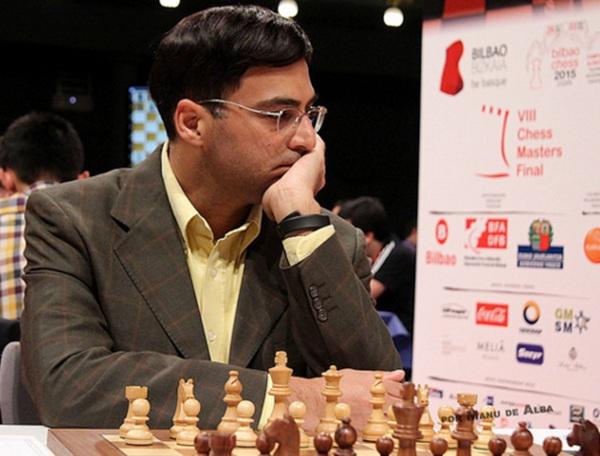 Five-time world champion Viswanathan Anand played out an easy draw against American Hikaru Nakamura in the second round of Altibox Norway Chess in Stavanger, Norway.
After conceding a draw with white against Levon Aronian of Armenia, Anand got the favour returned although he had to work relatively harder to maintain parity against Nakamura, often termed his nemesis.
For the record, the American went for a rare sixth move in the Queen's gambit declined and Anand admitted he was a "confused a lot" by this approach. However, as it turned out, the surprise remained just that and did not contain much venom as Anand got a healthy position with some strategic manoeuvres.
Nakamura's attempt at applying pressure met with some perfect response and the pieces treaded almost in a heap as the players reached a perfectly drawn rook and pawns endgame. The peace was signed after 39 moves.
The day did not feature any decisive games and the status quo after the first round remained on what was a pretty dull day. World Champion Magnus Carlsen came up with some fine 'home-work' to draw easily with Sergey Karjakin of Russia.
It was a serious opening novelty that saw Carlsen sacrifice a pawn and equalise completely leading to an endgame out of a Moller variation in the Ruy Lopez.
The world champion however wished it to be more interesting.
"I don't think we should sit here and congratulate ourselves with a novelty that leads to a draw," said Carlsen.
Carlsen continues to lead the tables on 1.5 points after two rounds and a pack of eight players including Anand are right behind him on one point apiece.
Among other games in the day, Fabiano Caruana of United States was the only one who could apply some pressure and appeared well placed to do some damage control after the opening round loss against Carlsen.
Up against Shakhriyar Mamedyarov of Azerbaijan, Caruana faced the Petroff defense, played aggressively to win a pawn amidst complexities but then blundered almost immediately to let his opponent off the hook.
Ding Liren of China meanwhile took his unbeaten streak to 74 Classical games after a draw with Maxime Vachier-Lagrave of France. The Chinese gave little away as white and remained in control for the major part of this queen pawn game that was drawn vide repetition.
Levon Aronian of Armenia and Wesley So of United States also split the point in the other game of the day. Seven rounds still remain in the strongest tournament of the year.
Results round 2: Hikaru Nakamura (Usa, 1) drew with V Anand (Ind, 1); Sergey Karjakin (Rus, 1) drew with Magnus Carlsen (Nor, 1.5); Levon Aronian (Arm, 1) drew with Wesley So (Usa, 1); Fabiano Caruana (Usa, 0.5) drew with Shakhriyar Mamedyarov (Aze, 1); Ding Liren (Chn, 1) drew with Maxime Vachier-Lagrave (Fra, 1).