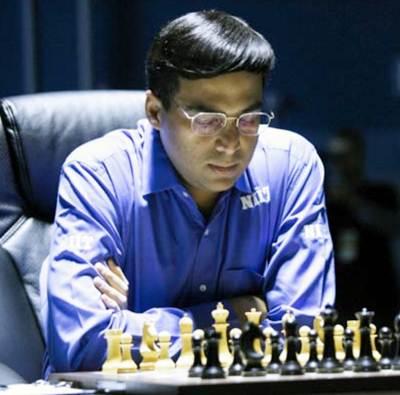 Viswanathan Anand had to be content with a second place finish in the Zurich Chess Challenge.
Hikaru Nakamura of the United States pipped the Indian at the post once again with a better tie-break score.
It turned out to be close call for Anand who played some exemplary chess after a disastrous showing in the Gibraltar International.
Last year too, the Indian ace had come to Zurich after a forgettable show in the Grenke Classic at Germany and won the Classical section.
After eventually tying for first with Nakamura, Anand had the better tie-break but an unannounced Armageddon game was played in which Nakamura won and emerged winner.
This year when Nakamura had better tie-break, there was no Armageddon announced or played.
Overall, it was a very satisfactory performance for Anand and he can now look up to the forthcoming Candidates tournament at Moscow next month. He scored seven points out of a possible five Classical-Rapid and 3.5 in Blitz
Chess to match Nakamura on 10.5 points.
The rapid games gave two points to the winner against one in the blitz.
Vladimir Kramnik of Russia finished third on 9.5 points; he was four points ahead of Dutchman Anish Giri and Armenian Levon Aronian who both tied for fourth spot.
Alexei Shirov of Latvia ended last in the six-player tournament, scoring 3.5 points.
Earlier, Anand drew the final rapid game against Kramnik when nothing really happened once Kramnik came up with a home-cooked analysis and caught the Indian unawares.
Anand quickly resorted to equalising measures and the peace was signed.
In the ensuing blitz games Anand defeated Aronian in yet another superb game where the Indian played black.
Anand had opened the Zurich account with a victory over Aronian in the opening round and he finished the whitewash with an eye-pleasing combination.
Another victory over Shirov and three drawn games against Kramnik, Nakamura and Anish Giri saw the Indian on the podium.
Nakamura was very lucky not to lose against Anand in the blitz game and was in fact contemplating 'resignation' when the Indian missed out on a winning continuation.
That aside, the American had to win the last round blitz game against Aronian to catch Anand on points and he came up with a sterling show in outwitting the Armenian in a rook and pawns endgame.
Final standings: 1-2: Hikamur Nakamura (USA), Vishwanathan Anand (IND) 10.5 points each; 3. Vladimir Kramnik (RUS) 9.5; 4-5. Anish Giri (NED), Levon Aronian (ARM) 5.5 each; 6. Alexei Shirov (LAT) 3.5.
Image: Viswanathan Anand