Five-time world champion Viswanathan Anand was held to a draw by Wei Yi of China in the fifth round of Tata Steel Masters Chess tournament in Wijk Aan Zee, The Netherlands.
With his third draw in five games, the reigning world rapid champion remained in joint lead on 3.5 points and now shares the lead with Anish Giri of Holland and Shakhriyar Mamedyarov of Azerbaijan.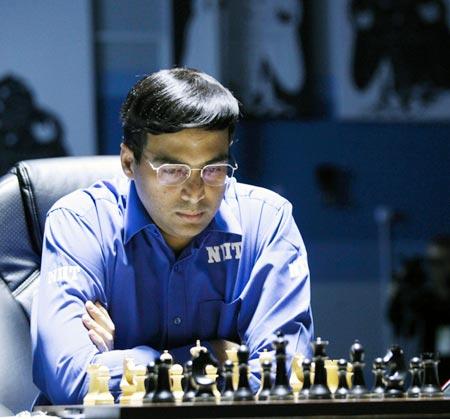 While Giri was held to a draw by Gawain Jones of England, Mamedyarov's tactics worked pretty well as he outplayed Fabiano Caruana of United States.
The other Indian in the fray, B Adhiban succumbed to his third defeat in the event going down to Wesley So of United States while in the other decisive game, Peter Svidler defeated top woman player Yifan Hou of China.
With eight rounds still to come, World No 1 Magnus Carlsen is on the toes of the three leaders a half point behind and giving him company is Wesley So and Vladimir Kramnik of Russia.
Even though he looked in a spot of bother, Carlsen found just about the right moves to draw with Kramnik in the fifth round game.
Anand faced the second Petroff defence in the tournament as white but this time did not get much. The Indian ace had scored an excellent victory over Caruana in the same opening a couple of days back but Wei Yi appeared better prepared.
The middle game saw Anand coming out with a new idea on the 15th move but the Chinese Grandmaster found the right response. Anand came up with a few tactical threats but they all met with resistance and the exchange of pieces ensured a perfect balance in just 29 moves.
In the Challengers section, India's Vidit Gujrathi slipped to second spot on four points after he was held to a draw by Erwin L'Ami of the Netherlands. Playing black, Vidit did not get any chances as L'Ami played it safe and the peace was signed early.
D Harika played out her fourth draw in five games splitting the point with local youngster Lucas Van Foreest.
Anton Korobov of Ukraine emerged as the sole leader on 4.5 points with another fine victory coming against Jordan Van Foreest.
The players will get their first rest day in the marathon event and the sixth round will see Anand as black against co-leader Anish Giri.
Results Masters round 5: Peter Svidler (Rus, 2.5) beat Yifan Hou (Chn, 0.5); Magnus Carlsen (Nor, 3) drew with Vladimir Kramnik (Rus, 3); Gawain Jones (Eng, 2.5) drew with Anish Giri (Ned, 3.5); V Anand (Ind, 3.5) drew with Wei Yi (Chn, 2.5); Wesley So (Usa, 3) beat B Adhiban (Ind, 1); Shakhriyar Mamedyarov (Aze, 3.5) beat Fabiano Caruana (Usa, 1.5); Maxim Matlakov (Rus, 2.5) drew with Sergey Karjakin (Rus, 2.5)
Challengers: Olga Girya (Rus, 2) drew with Benjamin Bok (Ned, 2); Jorden Van Foreest (Ned, 2) lost to Anton Korobov (Ukr, 4.5); Aryan Tari (Nor, 3) beat Jeffery Xiong (Usa, 2);
Michal Krasenkow (Pol, 2) drew with Matthias Bluebaum (Ger, 2); Amin Bassem (Egy, 2) beat Dmitry Gordievsky (Rus, 2.5); D Harika (Ind, 2) drew with Lucas Van Foreest (Ned, 3); Erwin L'Ami (Ned, 2.5) drew with Vidit Santosh Gujrathi (Ind, 4).