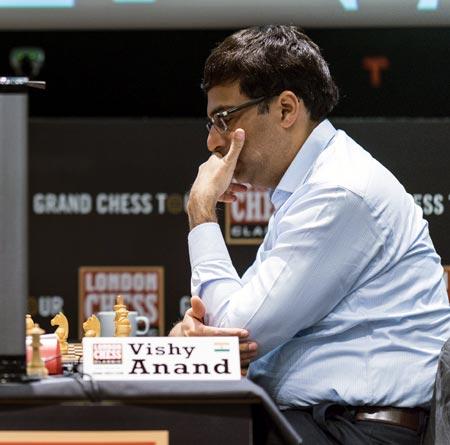 Former world champion Viswanathan Anand played out a draw with Current world champion Magnus Carlsen of Norway and finished tied seventh after the end of the ninth and final round of Altibox Norway chess tournament in Stavanger.
It was some recover for Anand who started off with two losses in the first four games and then came back with four draws and a solitary victory over Fabiano Caruana of United States earlier in the tournament.
Levon Aronian of Armenia deservedly won the tournament after settling for a draw with Wesley So of United States in his final round.
The Armenian ended with a very impressive six points out of a possible nine and ended a full point ahead of Hikaru Nakamura of United States and Vladimir Kramnik of Russia.
Caruana, Wesley and Anish Giri of Holland finished tied fourth on 4.5 points a piece while Maxime Vachier-Lagrave of France, Anand and Carlsen tied for seventh with four points in all. Russian Sergey Karjakin who had won his last two Norway events, ended last on 3.5 points.
There was usual drama in the final round. Anish Giri lost to Kramnik while Caruana ended the hopes of Nakamura with a fine display of attacking chess. Vachier and Karjakin drew the other game of the day.
Anand yet again went for the Italian opening as white and got a slightly better position in the middle game. Carlsen had to work on his counter play on the king while Anand did some damage on the flank but as the world champion later explained, there was always enough play.
Anand won a pawn but Carlsen got his rooks and queen to combine well. The game was drawn in the heavy pieces endgame through repetition of moves.
"Obviously one doesn't dream of minus-one, but well, it was really a bad start so under the circumstances, in this tournament this is a reasonable recovery, plus-one in the last five games. It's fine, but I shouldn't start with minus-two", Anand said.
Anish Giri had previously lost six games against Kramnik as black and added another to the list as the Russian won a miniature. It was an irregular opening wherein Giri was doing right earlier but his over-ambitious play saw white getting a huge attack. The game was over in just 20 moves.
Wesley So pressed against Aronian but was never threatening. The American once spurned down an unconditional draw offer by refusing to repeat but in the end Aronian proved his superior form in the event and drew easily.
Nakamura was caught off guard in a sharp Sicilian and Caruana was spot on in this complex encounter.
Results final round: V Anand (Ind, 4) drew with Magnus Carlsen (Nor, 4); Wesley So (Usa, 4.5) drew with Levon Aronian (Arm, 6); Fabiano Caruana (Usa, 4.5) beat Hikaru Nakamura (Usa, 5); Vladimir Kramnik (Rus, 5) beat Anish Giri (Ned,4.5); Maxime Vachier-Lagrave (Fra, 4) drew with Sergey Karjakin (Rus, 3.5).
Image: Viswanathan Anand in action.
Photograph courtesy: London Chess Classic