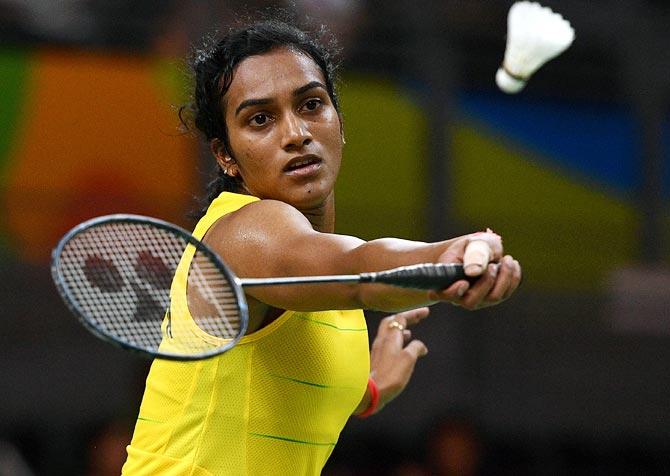 IMAGE: PV Sindhu in action. Photograph: David Ramos/Getty Images.
Olympic silver medallist P V Sindhu progressed to the quarter-finals of the All England Championship with a hard-fought win over Thailand's Nitchaon Jindapol in women's singles, in Birmingham.
The world No 3 Indian recovered from a mid-way slump to overcome the Thai shuttler 21-13, 13-21, 21-18 in a match which lasted an hour and seven minutes.
With 2013 champion Ratchanok Inthanon crashing out in the opening round, the onus was on Jindapol to go deep in the tournament and she did produce some superb strokes but Sindhu was always a step ahead.
Coming into the contest, Sindhu had a 2-1 head-to-head record against Jindapol, who is enjoying a career-best rank of 11.
The Indian kept the shuttle in play, pushing Jindapol to the corners and returning the shuttles with immaculate ease early on.
In the first game, the duo split the initial six points before Sindhu jumped to a 7-3 lead after winning a long rally. Sindhu played a brilliant backhand return to move to 8-3 and eventually entered the interval with another precise stroke at the back of the court.
After the breather, Sindhu moved to a 15-7 lead and kept piling on the misery on the Thai who kept hitting the net and wide to bleed points.
A body smash took Jindapol to double figures but she couldn't go far as Sindhu grabbed a massive game point advantage with a deceptive return at 20-13. Jindapol then hit long to hand the game to the Indian.
In the second game, Jindapol anticipated better and seemed more attacking in her approach and quickly opened up a 7-3 lead with a straight smash.
Sindhu hit wide and also miscued a backhand return. Jindapol used a reverse slice and dominated the rally next to zoom to a 11-3 advantage at the break.
Jindapol played an exceptional wristy deceptive return at the net and was all pumped up as she added more power in her strokes. Sindhu too looked to step up the pace of the rallies and narrowed the gap to 10-14.
Jindapol enjoyed a lucky net chord and Sindhu sent one long as the Thai shuttler lead 17-10 with another superb return.
Sindhu closed the gap to 13-17 with three straight points with some precise returns. A bad judgement and two successive wide shots from Sindhu gave Jindapol seven game points and she sealed it with a smash to roar back into the contest.
Sindhu looked more focused in the decider as she pumped herself with each point, moving to a 3-0 lead.
Jindapol exploited Sindhu's weak backhand but made a few unforced errors as Sindhu moved to 8-5. Jindapol kept the pressure on and narrowed down the lead to 7-8.
With an animated Indian coach P Gopichand constantly passing on advices from the sidelines, Sindhu produced a precise return to get another point but Jindapol clawed back at 9-9 after wrong footing the Indian. Sindhu held a slender 11-9 lead at the interval after Jindapol hit wide on both side of the flank.
Jindapol erased the deficit quickly after enjoying another lucky net chord and grabbed the lead when Sindhu couldn't put away a return.
Jindapol moved to a 15-12 lead after Sindhu erred in her cross court return. The Thai unleashed a precise return to gain another point but she found the tape next.
Sindhu produced an onrushing return at the back and then unleashed a couple of roaring smashes to make it 16-16.
Both missed the line next as it was 18-18. Sindhu then pounced on a chance at the net to grab lead and then gained the match point when the Thai went tonet. Jindapol netted again as Sindhu sighed a relief.
Nozomi Okuhara faces PV Sindhu after beating Fitriani 21-13, 21-15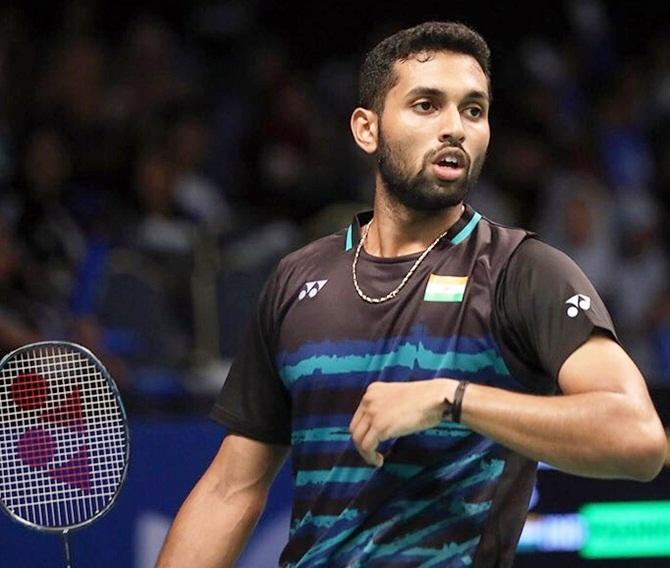 IMAGE: India's H S Prannoy reached quarters. Photograph: HS Prannoy/Twitter
Indian shuttler H S Prannoy progressed to the quarter-finals but title contender Kidambi Srikanth crashed out after suffering a narrow defeat to China's Huang Yuxiang.
The unseeded Prannoy, who came into the tournament after recovering from foot warts, outwitted former world no 3 and 2014 world championship bronze medallist Tommy Sugiarto of Indonesia 21-10, 21-19 in a pre-quarterfinal match.
The world no 3 had defeated Yuxiang, ranked 42, to claim the 2016 Syed Modi Grand Prix Gold title but Srikanth failed to see off the unseeded Chinese at the Arena Birmingham, losing 11-21, 21-15, 20-22 in a 52 minute battle.
"I didn't start well but then I came back really well in both the games. I missed out on easy points in the third," Srikanth said.
"Well, there were too many service faults in opening game. I didn't expect that to happen. Yesterday I didn't get any, today it was totally changed. That should not happen in a tournament. There should be a specific rule."
"The umpire couldn't find faults yesterday (on Wednesday) but today the umpire sitting found too many faults. It is ridiculous," an upset Srikanth said.
Prannoy, who slipped to world no 16 after missing a few tournaments earlier in the year, will now face Yuxiang in the quarters.
India's rising doubles pair of Satwiksairaj Rankireddy and Chirag Shetty played their heart out before losing to the second seeded Danish combo of Mathias Boe and Carsten Mogensen 21-16, 16-21, 23-21 in an hour and three minutes.
"We are playing better. we need more experience. We got 2-3 service faults in crucial moments. we were down in first game and it was same till the end. In the second we could pull off but in the third game we were neck and neck," Satwik said.
"We lost three times to them, it was always close. Unfortunate today after every two points in crucial points we had service faults. This is our first All England, so there is a little bit of nerves. We were bit unlucky today," Chirag said.
The mixed doubles pair of Pranaav Jerry Chopra and N Sikki Reddy, however, failed to put up a fight against second seeds Wang Yilyu and Huang Dongping of China, losing 6-21 10-21 in just 24 minutes