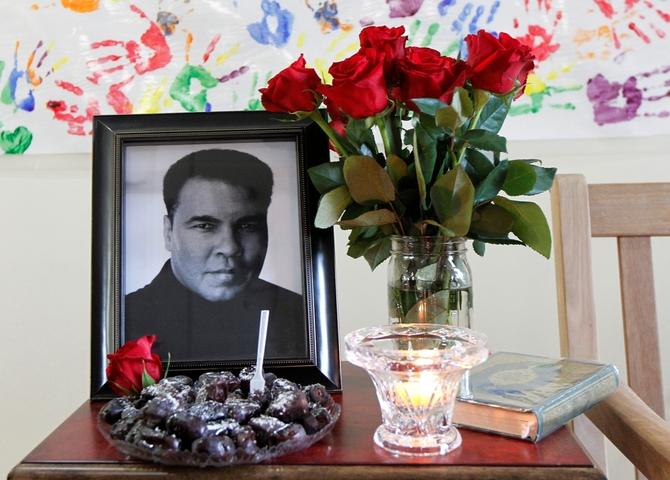 IMAGE: A memorial to honor Muhammad Ali, the former world heavyweight boxing champion after he died at the age of 74 on Friday at the Louisville Islamic Center. Photograph: John Sommers II/Reuters
A celebration of MuhammadAli's life continued on Wednesday in the late boxing champion's hometown of Louisville, where a daylong "I AmAli" Festival passed his legend on to a new generation through stories and arts and crafts.
Craig Davidson, 45, of Louisville, brought his 15- and 11-year-old sons to the festival to pay their last respects.
"I grew up as a kid at their age watching his fights," Davidson said. "I knew about his stance during the Vietnam War. ... I just wanted them to know more about him."
Ali, whose boxing prowess, showmanship and public opposition to the Vietnam War made him one of the world's most famous people in the turbulent 1960s and '70s, died last Friday of septic shock in an Arizona hospital. He was 74.
Plans were being finalized for the final days of mourning, including Friday's public service at the KFC Yum! Center.
Before the festival started on Wednesday, fans gathered at the arena to claim tickets for the service. At least 14,000 tickets were distributed after officials released them early due to the long line of people.
The final service will include such luminaries as former U.S. President Bill Clinton and comedian Billy Crystal. Actor Will Smith, who portrayed Ali in a 2001 movie, and former heavyweight champion Lennox Lewis will be among the pallbearers.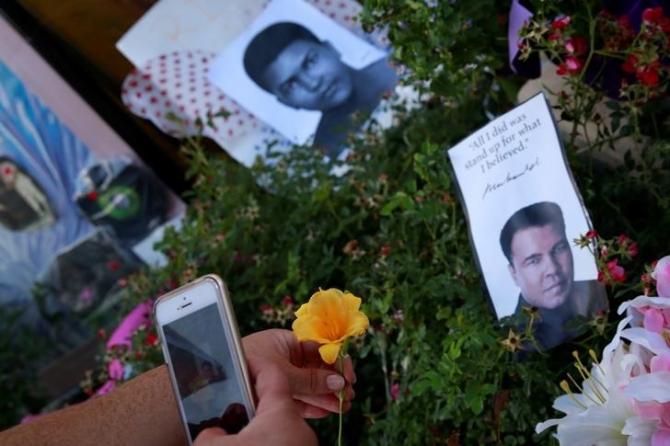 IMAGE: A woman lays a flower outside the Muhammad Ali Center to pay tribute to the late boxing champion in Louisville. Photograph: Adrees Latif/Reuters
The festival, at the Kentucky Center for the Performing Arts, was aimed at children, celebrating Ali's life with music, dance, and art and educational activities.
Children had the chance to color butterfly and bee masks, an homage to Ali's famous quote about his boxing style, "Float like a butterfly, sting like a bee. The hands can't hit what the eyes can't see."
"Today is about making sure they've got that connection to Muhammad Ali," Louisville Mayor Greg Fischer said in an interview on Wednesday. "As they grow up they can reflect back on this, so his legacy can live for multiple, multiple generations."
The festival opened with the release of 30 Monarch butterflies into the air.
Before Ali won the boxing heavyweight title or an Olympic gold medal, he was a young boy named Cassius Clay in Louisville who had his bicycle stolen, according to a story shared with festival attendees. When Ali turned to the police for help, he was introduced to the sport of boxing.