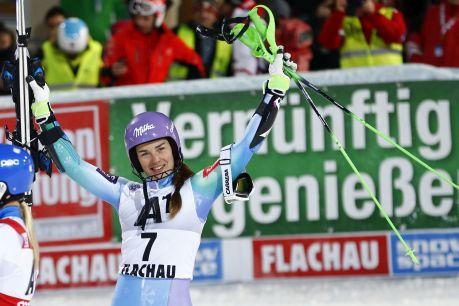 Some of the world's biggest sporting stars, including Sochi Winter Olympics medallist Tina Maze, are involved in a fierce competition for the 2015 Laureus World Sportswoman of the Year Award, which is promising to be one of the closest contests ever.
The likely contenders include an array of brilliant gold medal winners in Sochi, including Marit Bjørgen, Darya Domracheva and Maze. China's No.1 tennis player Li Na closed her amazing career with a second Grand Slam victory in the Australian Open, New Zealand shot putter Valerie Adams extended her winning streak to 56, while American gymnast Simone Biles, 17, had another spectacular year, dominating the World Championships.
The Laureus World Sports Awards, to be held from April 13-15, is recognised as the premier event in the international sporting calendar.
The six nominees for the Laureus World Sportswoman of the Year Award, as voted by the Laureus Global Media Selection Panel, will be announced on February 11, with the eventual winner being revealed at the Laureus Awards Ceremony in Shanghai on April 15.
Slovenian ski sensation Maze will be many people's favourite to be nominated for a second straight year after winning two Olympic gold medals in Sochi, taking the blue riband Downhill (shared with Dominique Gisin) and the Giant Slalom. In a fine all-round performance, she was also fourth in Super Combined, fifth in Super G and eighth in Slalom.
Image: Tina Maze
Photograph: Christophe Pallot/Agence Zoom/Getty Images