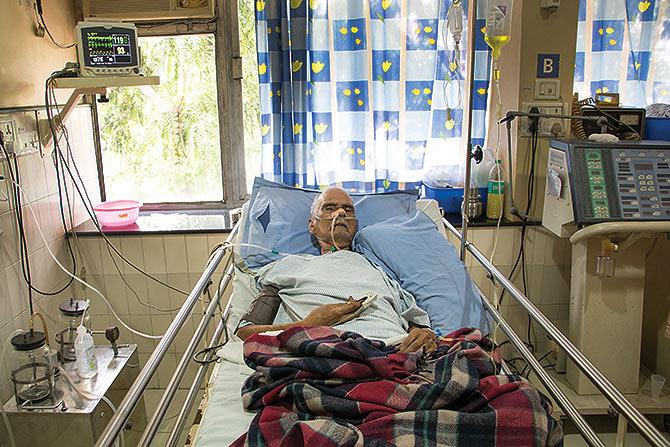 IMAGE: Former India hockey Olympian Joseph Antic recovers in a hospital in Mumbai. Photograph: Uday Kuckian/Rediff.com
Former India hockey Olympian Joseph Antic's condition has improved since being hospitalised in Mumbai on Friday morning.

"He is admitted in the ICU. He is better now and, hopefully, he will recover soon," Antic's son William told Rediff.com.
The former midfield ace, who played alongside greats like Leslie Claudius, Shankar Laxman, Prithipal Singh, V J Peter and Balkrishan Singh Grewal among others, was admitted to hospital because of age-related issues.

Antic, 90, was part of the Indian team, led by veteran half-back Claudius, which was beaten by Pakistan 1-0 in the final of the 1960 Olympic Games. It was the first time after six successive gold medals that India lost a match in the Olympics since the sport was added to the Games in 1928.

He was also part of the Indian team which was beaten by Pakistan in the Asian Games in Jakarta two years later.

Born in Andhra Pradesh, Antic represented Western Railway in the domestic circuit and was part of the Indian hockey team's tours to East Africa and Europe in the 1950s.

After his retirement he was actively involved in coaching at the domestic and international level. He was chief coach of Oman's national team which took part in the 1982 Asian Games in Delhi.
A couple of former India players who visited Antic on Friday evening lamented that he was not given his due by the Maharashtra government despite rendering yeoman service to Mumbai's hockey.
"Feel hurt that he (Antic) still lives in a tiny 400-450 sq ft apartment in Kandivali (a suburb in North Mumbai). Actually, he was allotted a much bigger house in the 1990s for his achievements in hockey, but that was suddenly given to a kabaddi player," said one of them.
His son, William, while appreciating the assistance being provided by his former employers Western Railway, concurred with the former player, adding, "but what can be done. This a way of life for sportsmen other than cricketers in our country. Let's hope dad gets better."
Olympic Gold Quest COO and former India captain Viren Rasquinha acknowledged Antic's contribution to Mumbai hockey, saying, "I haven't met him or seen him on the ground for, maybe, the last 30 years or so, but he was certainly a great of the game and did lots for Mumbai's hockey. Hope he gets well."
Former India goalkeeper Mir Ranjan Negi recalled how the crowd would turn up at the then BHA Stadium (now Mumbai Hockey Association) to watch Antic play for Western Railway.
"At that time Western Railway was the best team in the country. The crowd used to come just to watch Joe, Balbir Singh.
"Joe, though he was lean, his ball distribution was very good, which made him a very attractive player to watch," he said.
Last week, Mohammed Shahid, another hockey great who won the last of India's hockey gold medals at the Moscow Olympics in 1980, was hospitalised at the Medanta Medicity Hospital in Gurgaon for treatment of a liver disease.
The 56-year-old former inside-right was also part of the Indian team that won silver at the Delhi Asiad in 1982 and bronze at the Seoul Asiad in 1986.