The players heard about him but had never seen him in person. So when Wim Koevermans met India's under-22 boys for the first time at a practice session in Muscat, it was a special moment for them.
- Indian football's proud Papas and his boys
A day later, Koevermans, India new senior football team coach, and its technical director Rob Baan spoke about India's performance against the United Arab Emirates, the coaching philosophy, discipline and a lot more.
You watched India take on the United Arab Emirates in the U-22 AFC championship. What's your impression?
Koevermans: I am quite pleased with the manner things were conducted on the pitch. Obviously, there are areas of improvement. But one needs to remember that the performance came against a strong nation as the United Arab Emirates.  We had our moments on the field and could have won it. There were some elements which are very promising indeed.
Rob Baan: It was heartening to see that the boys were focused all throughou. They were passionate to play for their country, though I must admit that the passion, at times, was disturbing the tactics a bit.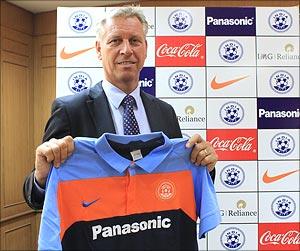 What was your perception of Indian football prior to taking over?
Koevermans: There were some similarities in the style of play with Ireland, the last nation I worked in. But, at the international level, the game has changed vastly and we need to implement the same to keep ourselves updated.
We need to get accustomed fast and try to develop with a young set of boys.
It was only 16 days of practice that the Under-22 squad had under Arthur Papas prior to coming over to Oman. Are you impressed with the manner the boys have settled down to the new style of play?
Koevermans: The new style and discipline will take time. There will have to be changes and it always takes time. So we just can't afford to hurry at the moment. Let's be patient and the difference will be evident.
You will officially take charge from July 1 and the Nehru Cup will be your first assignment. What are your plans for the Nehru Cup?
Koevermans: It's too early to comment on that at the moment. I have some meeting lined up in the first week of July and only after that will I be in a position to dish it out.
In such a championship, how much of a role does discipline play off the field?
Baan: It's an unbreakable part. There can be no success without discipline. Look at the Dutch squad as an example. The players need to listen, take proper rest, sleep at the right time and have a common goal. Only then can you think of success. If you don't have the discipline, the results will be damaging.