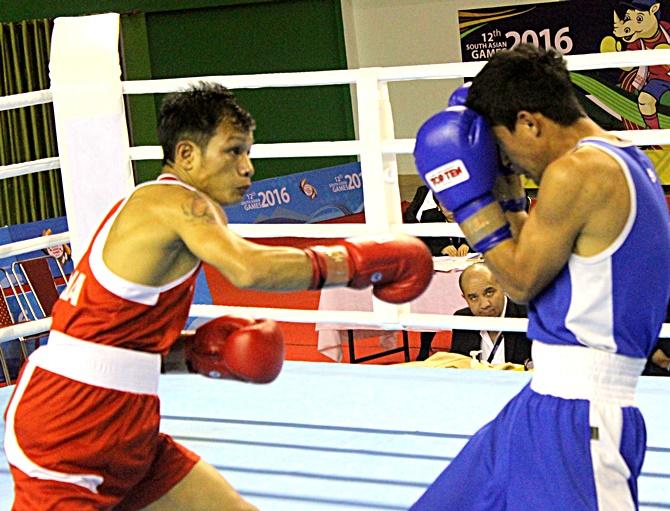 IMAGE: India's Devendro Singh, left, throws a jab at his opponent during the South Asian Games in Shillong. Photograph: PTI
"Disappointed" with India for not holding elections to form a new boxing federation despite specific deadlines, the International Boxing Association (AIBA) has set September 25 as the "final" cut-off for the country to have a new body.
Responding to a questionnaire on the deadlock that has hampered the sport's growth in India for the last four years, AIBA's Senior Corporate and Media Relations Manager Nicolas Jomard said the world body has cooperated with the country's officials so far but is disappointed with how things have panned out.
"AIBA has being working towards having national federation elections as a matter of urgency and has offered regular support in this regard. We are disappointed that the stakeholders have now decided to have postpone the elections until after the Olympics despite our specific deadline in advance of the Olympics," Jomard told PTI.
"Despite our disappointment with this ongoing situation we believe that the Indian boxing family have (SIC) come a long way in resolving the domestic issues and we do not want to see this process fall at the final hurdle. On that basis we have agreed to this final extension (Sunday September 25th)," he added.
Asked if India could face sanctions if the September 25 deadline is missed, Jomard said, "We won't comment on what has not yet happened but I guess it's quite clear that we want a new national federation by September 25."
India had earlier been given a May 14 deadline to hold elections by the AIBA, which had even threatened to suspend boxers from Olympic qualifiers if it was not met. But the ad-hoc committee running the sport and the state units' failure to reach a consensus resulted in the process getting delayed until after the Rio Games.
Asked if the world body was aware of the tug-of-war between officials, Jomard said the situation, if true, seems unfortunate.
Jomard called on the stakeholders in Indian boxing to put the interest of boxers above everything else.
"India is a strong boxing nation. It is unfortunate that the Boxing reputation in India is being tarnished by these institutional matters. Boxers must come first and that is what we have endeavoured to do at AIBA all along by allowing Indian boxers to compete in our competitions despite the suspension of the NF and be able to qualify boxers for Rio 2016," he pointed out.
"It is essential that all locally concerned parties act with common interests for the further development of the sport in India," he added.
India's boxing administration has been a mess ever since the erstwhile Indian Amateur Boxing Federation (IABF) was terminated for manipulation of elections. A new body that took charge in 2014 -- Boxing India -- could not sustain even for a year and was dissolved following a revolt by state units in 2015.
An ad-hoc committee has been administering the sport ever since missing election deadlines set by AIBA. The world body, however, made it clear that Indian boxers would not be stopped from competing under their national flag at the Olympics.
"The Olympic Games is an IOC event and hence Indian athletes will compete under their national flag," Jomard said.