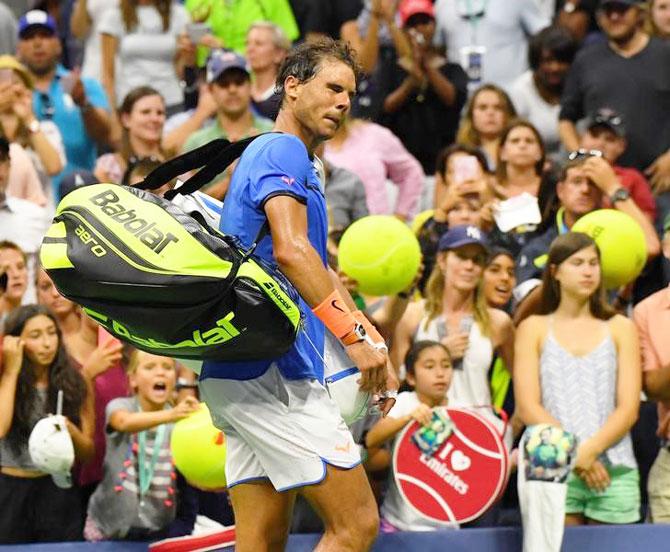 IMAGE: Spain's Rafael Nadal leaves the court after losing to France's Lucas Pouille on Sunday. Photograph: Robert Deutsch-USA TODAY Sports
Rafael Nadal said he was sad to have squandered an opportunity to do something special at the US Open with his fourth-round loss at Flushing Meadows, but happy with his effort and prospects going forward this season.
- 'Stronger than before' Pouille's career set to skyrocket
"I fight until the end," Nadal said about his 6-1, 2-6, 6-4, 3-6, 7-6(6) loss to 22-year-old Frenchman Lucas Pouille on Sunday.
"There were things I could do better. I had the right attitude. I fought right up to the last ball.
"But I need something else, I need something more that was not there today. I am going to keep working to try to find."
Nadal came back from more than two months of inaction due to a wrist injury that forced him out of the French Open and Wimbledon to compete last month at the Rio Olympics and won gold in doubles with Marc Lopez, and reached the singles semi-finals.
While he reports continued improvement in his left wrist, the 30-year-old Spaniard knows he still has a ways to go.
"Is true that I don't have lot of matches on my shoulders for the last three, four months, but even like this I lost an opportunity," Nadal said.
"I lost an opportunity to have a very good event here. I am sad for that.
"I need to keep improving the level of tennis to be back where I was before the injury."
Nadal said that although the grand slam season is over, he still has goals.
"I have the motivation to keep working," he said.
"I needed to serve better in some moments. I needed to create more pain on the opponent with my shots. That was something that I didn't make today.
"I have a few months to finish the season, to try to be qualified for the World Tour Finals. That will be a good effort, if I make that happen after two months and a half without competition. I am going to fight for it.
"My wrist is improving a lot. I say that looks like the injury is at the end of the process. I am ready to keep playing. That's what my body is asking me now."