'On the court I feel very fortunate to have Sania (Mirza) on my side because she's an incredibly positive person'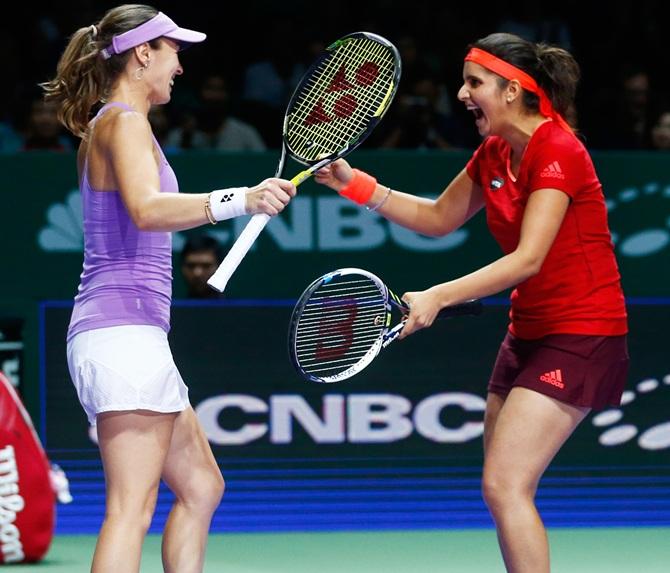 IMAGE: Switzerland's Martina Hingis, left, and India's Sania Mirza celebrate match point in their doubles semi-final match against Chinese Taipei's Hao-Ching Chan and Yung-Jan Chan during the WTA Finals in Singapore. Photograph: Julian Finney/Getty Images
The duo of Sania Mirza and Martina Hingis sailed into the 10th final of the year at the Women's Tennis Association's (WTA) Finals after beating Chinese Taipei's Chan Hao-Ching and Chan Yung-Jan in straight sets, in Singapore, on Saturday.
The Indo-Swiss pair posted a comfortable 6-4, 6-2 victory over the Chan sisters and went in on a monster 20-match winning streak.
Mirza and her Swiss partner clinched 2015 WTA- Year-End No 1 doubles ranking on Saturday.
Mirza and Hingis have won eight women's doubles titles this year, including two Grand Slam titles at Wimbledon and the US Open, since joining forces in March at the BNP Paribas Open.
The Swiss great described their achievement as 'incredible', adding that ending the year with number one rank was beyond her expectations.
Meanwhile, Mirza said that she is really glad to attain one of her main goals to end the year as No 1.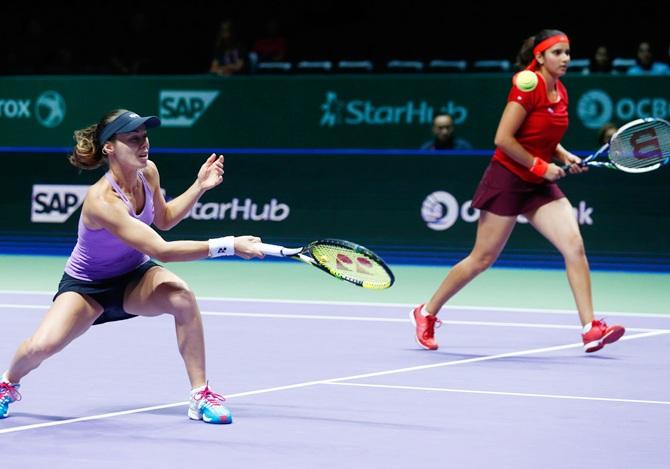 IMAGE: Switzerland's Martina Hingis, left, and India's Sania Mirza in action. Photograph: Julian Finney/Getty Images
Mirza and Hingis's last loss was against the Taiwanese sisters in the semifinals at Cincinnati. But since then the top seeded combination had beaten them three times and kept that pattern going this time as well.
Saturday's tie saw the third seeded Taiwanese pair take an early lead, going 3-1 up in the first set but Mirza and Hingis reeled off 11 of the next 14 games to completely crush their opponents and run away with the match.
"On the court I feel very fortunate to have Sania on my side because she's an incredibly positive person," Hingis said.
"When I get myself down, I'm not really a morning person, so she was out there and kept fighting and kept keeping me up there. That's why we were able to come back in the first set. Once I felt better, that's when everything started to click. They're a great team, so they've always come out strong in the past six matches that we played them. And they know how to play against us."
Sania said that she and Martina had a particular strategy against the Chan sisters.
"We came out with a strategy against them. It's very different to what we played against players like Friday who have more power, different strategy," Mirza said.
"We kind of have to stick to our guns, stick to what we have planned. We have to trust our abilities. That's what really takes us through a lot of the times, is that trust in each other's ability. We know sooner or later we're going to break. It happened at 3-2. If it didn't happen there, we would still keep fighting to make it happen."
Mirza and Hingis have won eight titles together this year -- Indian Wells, Miami, Charleston, Wimbledon, US Open, Guangzhou, Wuhan and Beijing.
They finished runners-up at Rome.
Martina is just a win away from her 50th WTA doubles title, a milestone that only 15 players have reached so far.