No continent has escaped the 'cancer' of football match-fixing and it is too big a problem for one organisation to tackle alone, AFC acting president Zhang Jilong warned as the regional body and INTERPOL kicked off a two-day seminar on the issue on Wednesday.
World football was rocked earlier this month when European police said a Singapore-based syndicate had directed match-fixing for at least 380 football games in Europe alone, with documented profits of eight million euros (7 million pounds) believed to be just the tip of the iceberg.
While the news shocked many in Europe, the announcements were met with little surprise in Asia, which has long struggled to tackle the problem with high profile cases in South Korea, China and Malaysia in recent years.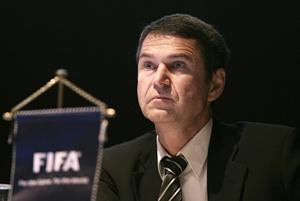 Zhang, who served as the chairman of the AFC's Finance Committee during the final years of Mohammed Bin Hammam's reign as AFC president before the Qatari was banned for life by FIFA for corruption and bribery, said cooperation was required to tackle the problem.
"We are ready to work hand in hand to eradicate this cancer from the game," Zhang told reporters in Kuala Lumpur in his opening speech.
"Match-fixing is too complicated and widespread for one organisation to fight it alone.
"No continent is now left untouched by this disease. Match-fixing is now a pandemic in the world football."
Zhang has been in temporary charge of the AFC since June 2011 and is expected to run for the full presidency post during the elections in May after the AFC were finally granted legal clearance to replace Bin Hammam.
The lack of arrests in the global match-fixing case have led to criticism but Zhang said no stone was being left unturned in battling the crisis affecting the world's most popular sport.
"I can assure this conference that AFC will not rest until this blot is completely stamped out in Asia," he said.
"However, for fighting against this highly organised crime, we will need the joint efforts from all parties.
"We need to understand how match-fixing works in order to prevent it. We need more information on how crime syndicates operate.
"We want the result of a match to be beyond the shred of a doubt and we will do everything possible to make this happen."
Dale Sheehan, DirectorCapacityBuilding and Training at INTERPOL, the world police organisation, and FIFA Director of security Ralf Mutschke also spoke on the opening day of the conference.
Photograph: Samsul Said/Reuters