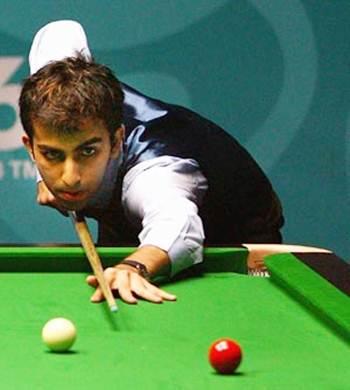 Pankaj Advani held his nerve to edge past David Causier of England and enter the final of the World Billiards Championship (Time format) by a mere five points, in Leeds, on Wednesday.
Eyeing another grand double (points and time format in the same year) after clinching the 150-up short format title last week, the Indian ace led last year's runner-up by a comfortable 400 points at one stage before settling for a 1180-1175 victory.
With Advani making it to the final it could have been an all-Bangalore title clash, but Balachandra Bhaskar went down to Robert Hall, another Englishman, 978-824.
Hall was far too consistent for Bhaskar, who had stunned defending champion Peter Gilchrist in the previous round.
In the best match of the tournament thus far, Advani opened proceedings with a 94 break due to a loss of position while crossing the baulkline. Causier responded with an 83 and from there the high quality last-four match between two World champions saw a wide range of breaks.
It was Advani who raced away in the first half of the four-hour semi-final with breaks of 304, 103 and 114.
The big-scoring Englishman then took charge and fired in breaks of 91, 170 and 188 to take a slender three-point lead with only seconds to go on the clock.
The Indian rushed to the table and added a timely 10 points before missing a pot.
With a seven-point deficit, Causier started his fightback with a cannon (2 points) and was on his way to regain the lead before the timer went off.
"I just cannot believe how close it got! I had no business relinquishing the lead I enjoyed in the first half but that's the magnitude of David's talent. He is a remarkable billiards player and a thorough gentleman. He congratulated me and wished me luck for the finals. A true sportsman," said Advani, after the narrow victory.
On his upcoming match with England's Rob Hall, who makes his first appearance in a World Championship final, Advani said "Rob is in fine form and has taken his game to a whole new level. From the time I last saw him in August (in Glasgow at the quadrennial World Team Billiards Championship, which Advani had also won), his game has grown leaps and bounds.
"He has beaten the highly capable Aussie Matthew Bolton earlier this week and took out our own Bhaskar, who was in tremendous form. This will not be an easy match but, as always, I remain positive."
Advani, who has already pocketed two 'grand doubles' will record another bit of history in his illustrious career should the Indian prevail in the five-hour final later today.
Image: Pankaj Advani