Ten-time World champion Pankaj Advani, on Monday, decimated Myanmar's Aung Htay 5-0 to storm into the finals of the IBSF World Billiards Championship in Bengaluru.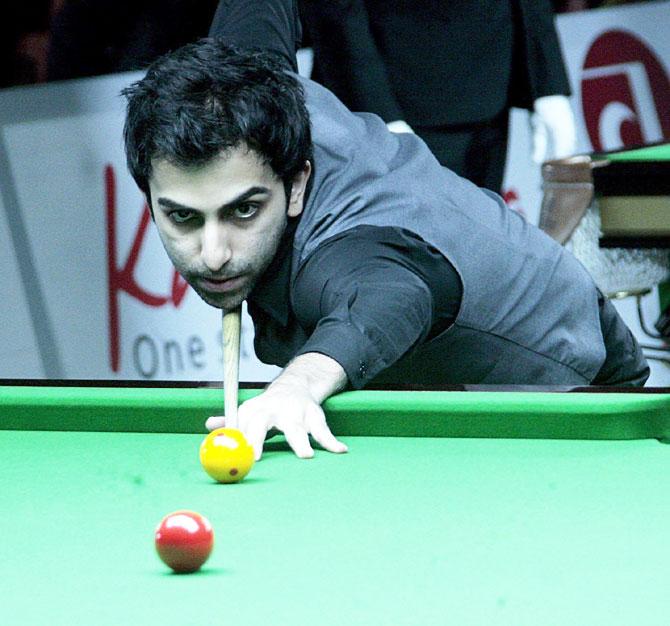 India's most decorated cue sport champion will now meet the legendary Peter Gilchrist, who beat India's Dhvaj Haria 5-1, in the other semi-final.
Advani began his semi-final by registering a commanding 150 points against 55, with 101 break point, in the best of nine games.
In the next game, he was ruthless pounding home 150 points to a mere eight from his opponent, with a break of 150.
Htay, down after two games, made his way through by posing a challenge in the third posting a break of 96, but did not pocket the game as Advani's break of 122 was too good for the Myanmar player, who lost 129-150.
The ace cueist then pressed harder to win next game 150-18, with 117 break and lapped it up with 150-79 in the fifth and final game to seal Htay's fate.
In another semi-final, Gilchrist scripted a 5-1 win against Dhvaj. The Singapore-based British player started with a bang with registering 150-5 win in the first game.
Gilchrist, however, faced a bit of challenge from his rival, who scored 150 with breaks of 76 and 61, which was enough for Dhvaj to seal the game in his favor 150 points against 87.
After winning the third game 150 against 118, Gilchrist, in his supreme form, displayed his talent as a world-class player, who knocked Dhvaj out of the race for a final world championship berth.
Gilchrist bagged the games between four and six with score-sheet reading 150-33 150-11 and 150-28.
Image: Pankaj Advani
Photograph: PTI