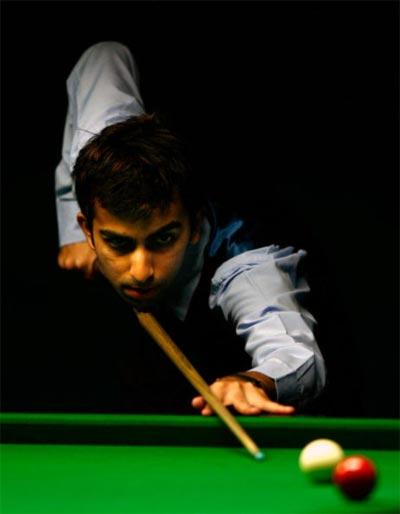 Pankaj Advani continued his surge in the World Billiards Championship (time format), making it to the semi-finals with a 916-665 victory over compatriot Rupesh Shah, in Leeds, on Tuesday.
The ace Indian cueist, who pocketed the 150-up points format title last week, maintained his fine run of form in the longer format too, first scoring a thumping 1783-457 victory over Alok Kumar in the last-16 encounter.
With breaks of 135, 118, 701, 575 and 85, the 29-year-old Bangalore cueist, winner of 11 World titles, mesmerised the audience as he proceeded to register a break of 701, the highest of the tournament, against Kumar.
In the quarter-finals later, breaks of 93, 76, 86, 150, 86, 70, 114, 50 were enough to take the game away from Shah, who mustered up scores of 87, 96, 57, 104, 107.
Advani will take on David Causier of England, who got the better of India's Dhruv Sitwala 1146-616 in another quarter-final.
Causier had breaks of 62, 87, 88, 111, 146, 62, 163, 229 while Sitwala scored 53, 103, 56, 58, 54, 93 on his visits to the table.
In the other semi-final, England's Robert Hall will meet India's Balachandra Bhaskar. The former got the better of India's Devendra Joshi 862-611 while Bhaskar shocked Singapore's Peter Gilchrist, winning 797-586.
Earlier, it was heartbreak for Sourav Kothari and Aditya Agarwal in the pre-quarter-finals.
Kolkata's Sourav, son of former World champion and National coach Manoj Kothari, was beaten by Singapore's Peter Gilchrist 761-701 while Aditya was outplayed by David Causier of England 1702-452.
In other last-16 matches, Shah beat Phil Mumford (England) 952-490, Joshi beat Steve Brookshah (England) 1266-775, Bhaskar bt Robin Wilson (England) 775-698, and Sitwala edged past Ashok Shandilya 679-616.
Image: Pankaj Advani