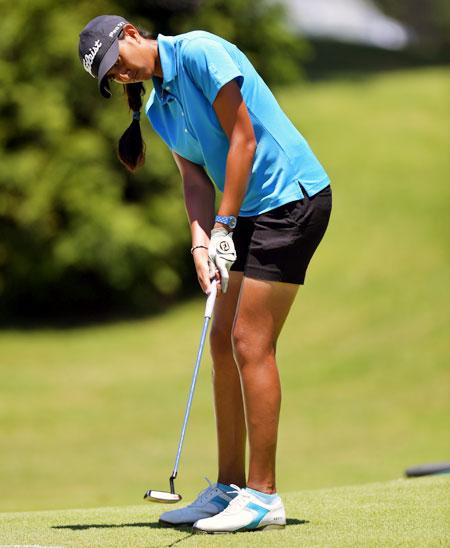 Aditi Ashok got off to a great start with a two-under 69, which put her in tied 11th place in the 2017 KPMG Women's PGA Championship, the second Major of the year for women, in Illinois.

Aditi, who made the cut in the first Major, ANA Inspiration, started from the 10th and birdied her first nine holes, displaying great patience despite her putts not falling.

She birdied the first, fourth and fifth on her second nine, the front stretch of the famed course. She dropped her lone bogey on ninth.

The first round's play was suspended at 7:01 pm local time and 30 players did not complete their first round.

A strong finish by Korea's Chella Choi put her atop the leaderboard alongside Amy Yang, who is also at 5-under-par but did not complete her first round due to bad weather on Thursday.

Choi birdied four of her final six holes to card a 5-under-par 66. Choi's lone career win came in 2015 at the Marathon Classic. She comes into the Championship having played quite well over the past month, with a T10 and two T11s.

Choi's best finish in a major came in 2013 at the KPMG Women's PGA Championship, formerly the LPGA Championship, when she finished in a tie for fifth.

Defending champion Brooke Henderson and Michelle Wie headlined a group of four players at 3-under, 68 while two other players are at 3-under, but did not complete their opening rounds.

The 2017 KPMG Women's PGA Championship features 96 players representing 29 countries.
Image: Aditi Ashok
Photograph: Drew Hallowell/Getty Images