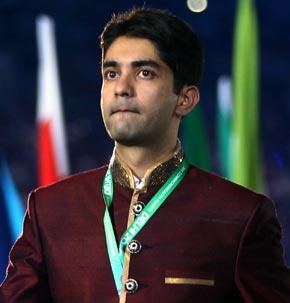 Olympic gold medallist shooter Abhinav Bindra on Tuesday lashed out at Indian Olympic Association officials for refusing to accept International Olympic Committee's directive to bar chargesheeted persons from contesting elections and asked the world body to stick to its earlier stand.

IOA's Special General Body Meeting on Sunday had sought to dilute the chargesheet clause by proposing to apply the sanction to only those who are convicted and sentenced to a jail term of more than two years. They had argued that under Indian law, chargesheeted persons can stand even Parliamentary elections.
- Should tainted officials be kept out of Indian sport?

Bindra, who won an individual gold in 10m Air Rifle at the 2008 Beijing Olympics, asked the IOC to insist to the chargesheet clause it had included in the revised draft of the
IOA sent on August 15, for the sake of Indian sports and its athletes.

"If they (IOA officials) had thought of Indian sports and its athletes, they they should have accepted the IOC's conditions so that India can get back into the Olympic fold. But they will not do that," Bindra said.

"I asked the IOC not to back out and stick to their stand. It's very important for the development of Indian sports and for athletes," he said.

"IOC will have to understand that more than 50% of the IOA members who attended the Special GBM have charges framed against them in a court," Bindra told CNN-IBN.

Bindra said that the IOA's decision to dilute the chargesheet clause is a disappointment but not a surprise.

"I am disappointed but not surprised by what the IOA GBM had done. What do you expect from a meeting whose more than 50% members have charges framed against them in a court. They would not throw themselves out of the IOA.

"But it's extremely ridiculous, disgraceful and humiliating for an athlete to be asked by fellow athletes from other countries how such a big country like India has been suspended by the IOC. I have been asked this question by lots of athletes wherever I go and participate in international competitions," he said.
Asked about Indian athletes not being able to participate under the country's flag because of the suspension by the IOC, Bindra said, "For an athlete, the greatest pride is to stand on the podium in a multi-sporting event and other international competition with the national flag being hoisted and national anthem sung.

"Indian athletes have been deprived of this due to a few people in the IOA. It's an extremely sad and hurtful situation for an athlete."

On the issue of National Rifle Association of India being asked to leave Sunday's GBM on the ground that a court has ruled the shooting body's elections illegal, Bindra said, "I am extremely sad that my federation has been thrown out for articulating important points. It's in poor taste. NRAI is the federation which has given maximum, individual Olympic medals to the country."