With just two tournaments left for Olympic qualification, Indian contenders for the London Games are looking to rake up ranking points at the Asian Badminton Championships, beginning in Qingdao, China, on Tuesday.
Ace Indian shuttler Saina Nehwal is already assured of a berth, but five of her compatriots are still in the running for tickets to the Olympics, and hoping to gain as many ranking points from the tournament and the India Open, which follows from April 24-29, before the May 3 deadline.
World No 5 Saina is hoping to gain psychological mileage by defeating the leading Chinese shuttlers. She has her work cut out when she opens her campaign against Japan's Kaori Imabeppu.
The 22-year-old has a reasonable draw and is likely to meet second seed Chinese Xin Wang in the quarter-finals.
This is an important tournament for the Indian ace as she is looking to test her speed after losing over five kilos recently.
In the men's singles, it is a two-way battle between world No 27 Ajay Jayaram and P Kashyap, ranked 31. They start their campaign against Chinese Taipei's Jen Hao Hsu and second seed Chen Long of China respectively.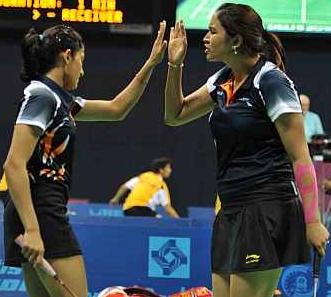 India's leading doubles player Jwala Gutta is in the running for an Olympic berth in two categories -- the women's and mixed doubles.
The 28-year-old from Hyderabad will pair with Ashwini Ponnappa in the women's doubles. The world No 20 combo open against Vita Marissa and Nadya Melati of Indonesia.
"We have been practising with Arif Sir and it has been a good session. We worked hard and we would look to be just calm mentally on court," Ashwini said.
Jwala will also combine with her mixed doubles partner V Diju. They take on the Indonesian pair of Riky Widianto and Puspita Richi Dili in their tournament-opener.
Ranked 16th now, the pair is hoping to hold on to their position when the rankings are decided on May 3.
Even though he is still ahead in the running for a berth, Jayaram said he has to be more consistent if he wants to realise his dream of playing in the Olympics.
"Olympics is a dream and I will give my everything to earn a place. I played well last year, where I have beaten some top players and had also come close to beating some. But I have to be more consistent," Jayaram said.
Kashyap said it would be tough to bridge the gap with his compatriot but he believes it all depends on the performance on that particular day.
"I had a very hectic schedule and hardly got any time to practice. The few days that I got before the tournament I tried to relax and work on some areas. It all depends who is stronger on that particular day and I would like to count my chances," he said.
Among other Indians, H S Prannoy meets seventh seed Tien Minh Nguyen of Vietnam, Sameer Verma will clash against fourth seed Simon Santoso of Indonesia and Sai Praneeth will take on Niluka Karunaratne in the men's singles.
In women's doubles, Pradnya Gadre and Prajakta Sawant face Chinese Taipei's Kai Hsin Chiang and Pei-Ling Tsai at the Qingdao Sports Centre Conson Stadium.
Pranav Chopra and Prajakta Sawant will clash with Noriyasu Hirata and Miyuki Maeda of Japan in the mixed doubles, while Akshay Dewalkar and Pradnya Gadre will take on Ki Jung Kim and Kyung Eun Jung.
Another Indian pair of Tarun and Ashwini will meet a qualifier.
In men's doubles, Tarun Kona and Arun Vishnu are up against top seeds Biao Chai and Zhendong Guo, while the top Indian pair of Rupesh Kumar and Sanave Thomas will take on the Korean pair of Ki Jung Kim and Sa Rang Kim in their first round match.
Pranav Chopra and Akshay Dwalkar will take on sixth seeds Hiroyuki Endo and Kenichi Hayakawa of Japan.