'In Flavio Briatore, we had a fantastic manager but he was to a certain degree taking too much space'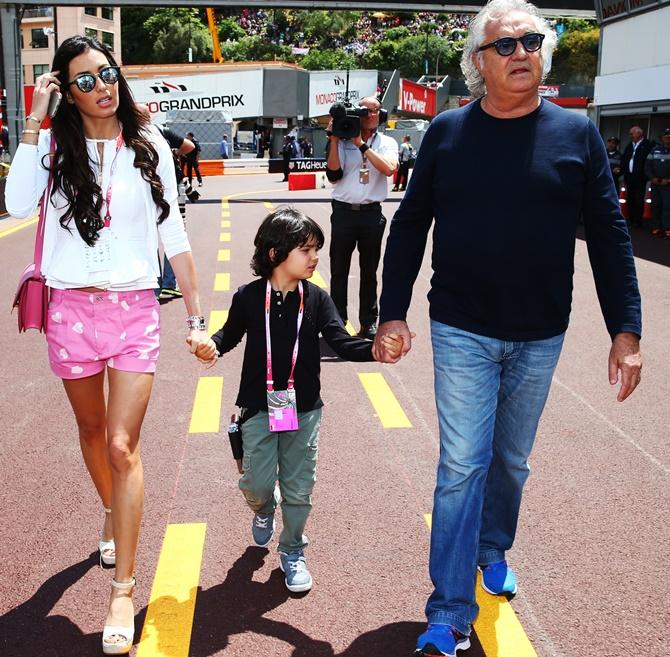 IMAGE: Flavio Briatore, his wife Elisabetta Gregoraci and their son Falco Nathan attend the Monaco Formula One Grand Prix at Circuit de Monaco. Photograph: Mark Thompson/Getty Images
Formula One has lost another of its principals.
Renault, returning as a constructor after buying back the team they sold in 2009, this week followed McLaren and reigning world champions Mercedes in doing away with the once exalted position of team principal.
Frederic Vasseur will be racing director instead, reporting to Renault Sport managing director Cyril Abiteboul under president Jerome Stoll -- with company chief executive Carlos Ghosn above all.
It is very different to last time.
Then the French car giant had Italian Flavio Briatore -- a flamboyant multi-millionaire who exercised complete control while never straying far from the celebrity gossip pages -- as F1 team principal.
A decade or two ago, the principals were the main men in the paddock 'Piranha Club', big egos battling for supremacy and sometimes, when they could agree with the governing body, deciding the future of the sport.
Briatore, who remains close to Formula One supremo Bernie Ecclestone, won world titles with Benetton and Renault but was ousted after a Singapore race-fixing scandal that led to banishment from the paddock and Renault selling the team.
They re-acquired it in December but Abiteboul, himself a former principal of the now-defunct Caterham team, told Reuters that while Formula One teams could not be run by committee a new type of management was needed.
"In Flavio Briatore, we had a fantastic manager, a fantastic ambassador, but he was to a certain degree taking too much space," he said.
"(He was) too big of a personality and also (had) the expectation to have complete freedom, no sort of accountability."
For Renault, the talk now is of synergies and building the brand, the racing operations helping to sell road cars with the team part of a much bigger and engaged corporate whole.
Only two of the 11 teams now have a designated principal who is also the owner or founder, and both are privately-owned -- Williams and Force India. The rest of those still bearing the job title are accountable to others.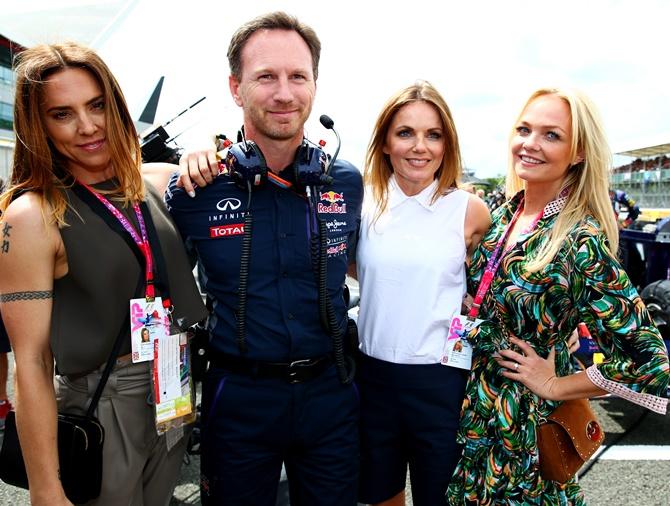 IMAGE: From left, Melanie Chisholm, Infiniti Red Bull Racing Team Principal Christian Horner, Geri Horner and Emma Bunton pose on the grid before the Formula One Grand Prix of Great Britain at Silverstone Circuit. Photograph: Mark Thompson/Getty Images
Mercedes dispensed with a formal principal in 2013 when Ross Brawn, a commanding presence who led his own Brawn GP team to both titles in 2009 and then sold it to the German carmaker at the end of the year, left.
Mercedes motorsport director Toto Wolff took charge of the commercial side while Paddy Lowe became responsible for the technical operation and former champion Niki Lauda was made non-executive chairman.
"That position (of team principal) is a thing of the past," Wolff declared then.
"It is like any other major corporation: there is not that one guy on the board who is making all the decisions -- it is divided by competency."
McLaren's last team principal was Martin Whitmarsh, who took over from Ron Dennis and was ousted in 2014.
The duties are now shared by racing director Eric Boullier and newly-appointed chief executive Jost Capito, who reports to overall head Dennis, with the team part of a greater group.
Gerard Lopez, principal of Lotus F1 last year and former owner who is now a minority shareholder in the Renault Sport team following December's takeover, agreed the title was outmoded.
"I'm not going to say it's something from the past but Formula One is a bit different now," he told Reuters. "You need different hats on different people to do different things.
"I remember when I started watching Formula One ... a team principal would manage, make the calls, strategise, bring the sponsors, hire the drivers and so on. There's five different people doing that in the modern team today."
The big decisions now often involve executives way above those entrusted to run the team at grand prix weekends, leaders like Ghosn.
Principals remain at the helm at Ferrari and Red Bull but both Maurizio Arrivabene and Christian Horner respectively report to president Sergio Marchionne and billionaire owner Dietrich Mateschitz.
Toro Rosso are also owned by Red Bull while Sauber principal Monisha Kaltenborn, the first woman to occupy the position, was appointed by founder and majority shareholder Peter Sauber.
American Gene Haas, a NASCAR team co-owner whose Ferrari-powered Formula One outfit are the season's newcomers, has appointed Austrian Guenther Steiner as principal but nobody doubts who has the final say.
Force India co-owner Vijay Mallya is also the principal of his team but the embattled liquor baron does not attend all the races and leaves much of the day-to-day running to his trusted deputy Bob Fernley.
Even privately-owned Manor Racing, the smallest team on the starting grid, have yet to appoint a principal after the departure of founder John Booth at the end of last season.
They offered it last year to Austria's now-retired F1 racer Alex Wurz. He turned it down.